ZARA YAMANE

(Japanese: 山音ザラ / 山根ザラ - ザラヤマネ- Yamane Zara)

NAME INTERPRETATION:


山音 (Yamane; Sound of the Mountain) / 山根 (Dormouse.)

ザラ (Zara; Princess in Hebrew.)

TYPE/MODEL: N/A

GENDER
Female
VOICE RANGE

F3-A5

freq. avg: A#4

RELATED CHARACTERS

Len Kagamine (Admires)

AGE

14-16

GENRE
Any
HOMEPAGE
None
WEIGHT

81 lbs

CHARACTER ITEM

Licorice

CREATOR
NewResonance
HEIGHT
4"11' foot (150cm)
VOICE SOURCE

NewResonance

PICTURE LINK LIST
BIRTHDAY
March 14th
LIKES

Cats

MEDIA LIST

RELEASE

DATE

March 15th (release date)

DISLIKES

None specified

SIGNATURE SONG

N/A

PERSONALITY: Emotives
Supplemental Information
Eye color: Wear blue lens. Her real eyes colors is brown.  
Nationality/Race: French
Hair: Brown
Dress: Look at the concept art
Usage Clause
General
♪ Usage must follow the terms set by UTAU's Creator, Ameya/AmeyaP
♪ No Claiming this voicebank as your own, or claiming to be it's creator.
♪ The creator holds no responsibility if incidents occur.
Voicebank Usage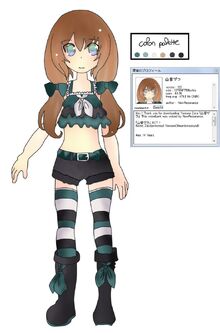 ♪ Persmission is not required for banks to be used.
♪ Showing the creator is not required, but appreciated.
♪ No using the banks under a different name to the name of the voicebank, claiming the bank as someone else etc
♪ No modification of the voice samples. 
♪ Pitchloids are forbidden
♪ Do not use the samples in the voicebanks for another UTAULOID's voicebank.
♪ Modification of the OTO.ini file is ok for personal use. Contact the creator for any major issues.
♪ Commercial usage requires the creator's permission
♪ R18 works (explicit content, works of violence/sex) are forbidden
Other
♪ Roleplay of the UTAU characters is discouraged, but not forbidden. Please avoid roleplaying out of character.
♪ The Creator maintains the right to ask roleplayers to stop.
♪ Creative works featuring the UTAU (Such as Fanfiction/Games/Song covers/Comics/Fanart/other) can derive from set personality if it's appropriate.
Voice Configuration/Downloads
Zara's CV voicebank is complete, with OTO.ini and aliases.
Her ACT1 can be downloaded >here<
Her ACT2 can be downloaded >here<