SATO YUUNE


(Japanese: 優音サト - Yuune Sato)

NAME INTERPRETATION:
優音 (Yuune) - Meaning Superior Sound :
サト(Sato) - Comes from the Kanji "砂糖" which means "Sugar"
TYPE: Human
MODEL: M-02 - ("M" signalising the First letter of the creators name, "02" singalising that it is his second utauloid)
GENDER
Male
OPTIMAL VOICE RANGE
C4, C5
RELATED CHARACTERS
Yuune Mito (Older Brother),
Soryuushi Sanso (Cousin)
AGE
12
GENRE
UNKNOWN
HOMEPAGE
Youtube
WEIGHT
45kg
CHARACTER ITEM
Blow-Back Airsoft M9 Replica
CREATOR
Marius Alexandersen
HEIGHT
1.53 cm
VOICE SOURCE
Marius Alexandersen
PICTURE LINK LIST
Piapro
Pixiv
Deviant Art
Google
Photobucket
BIRTHDAY
See Release Date
LIKES
Shiny things (Shiny stuff, Gold, Diamonds, Polished shoes, etc.)
MEDIA LIST
Nico Nico Douga
Youtube
RELEASE DATE
24th of June, 2012
DISLIKES
Changing the bandages everyday (Him and his older Brother was involved in a housefire)
SIGNATURE SONG
'Happy Birthday'
PERSONALITY: Sato is much like his older-Brother Yuune Mito, however he is a lot more eccentric. He's very honest and very supportive. He enjoys being With his older-Brother at their home. Sato always looks on the Bright side of things, seeing him depressed is rare.
Download and Information
Currently only Japanese CV is available
Voicebank encoded in Romaji
Alias' in Hirigana
Uncompressed Size of 5,48MB
Compressed Size of 3MB
Frequency Avarage: 329,4 Hz (E4)
Number of Samples: 112
CV Voicebank can be downloaded here
Supplemental Information
Hair color: Dark Green
Headgear: None
Eye color: Green, Slit Pupils
Earphones: None
Dress/Outfit:

Sato uses an oversized green coat With a belt around the stomach area.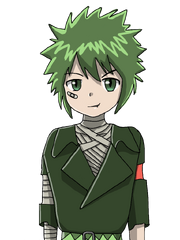 Under the coat there are bandages covering his body all the way up to his head. there is also a red armband on his left arm and bandages outside the coat on the right arm. bandages continues under the coat on his right arm to the wrist. The coat's arms are ripped up. The coat goes way Down only to reveal his bandaged feet

Nationality/Race: Norwegian/Scandinavian

Sample of Usage
Kagerou Days
Happy Birthday
つけまつける
Ponyo
One of Repetition

Contacting the Creator
There are a number of ways you can contact the creator, some of them are listed below:
Twitter: @Mariuspersem
Youtube: Mariuspersem
Email: Marius_kule@hotmail.com

This article is written and certified true and correct by the author of the character. The details seen here may be subject to change without prior notice.