| | | |
| --- | --- | --- |
| |   | Yuu ZERO |

NAME INTERPRETATION:
夕 means "Evening"


MODEL: 

√-0 because its another something stupid to try on a calculator.

GENDER
Male
VOICE RANGE
A#2 - A#4
RELATED CHARACTERS

Kazumine Akira (Friend)


'Chitose'(Cousin)

REi ZERO (Twin sister)

AGE

Around


12~14

GENRE
Pop, Techno, Rock
HOMEPAGE
-
WEIGHT
-
CHARACTER ITEM
-
CREATOR
[1]
HEIGHT / MEASUREMENTS
-
VOICE SOURCE
Her boring creator.
PICTURE LINK LIST
Here rofl.
BIRTHDAY

11th


November

2012

LIKES

Calming situation, singing, girls, Games and Pocky

MEDIA LIST
RELEASE DATE

11th


November

2012

DISLIKES
Boredom, Old people, Loneliness,  and Hatsune Miku.
SIGNATURE SONGS

PERSONALITY: Yuu is a calming person. He is also a love-doctor person. Whenever his twin sister makes trouble, he'll be taking care of the situation. 


Yuu wears a black jumper suit with red neck. He wears a white eyepatch and headphones same as her sister. However, his headphone's blue X is on the left and red O is on the right. Unlike his sister, he does not have those Δ☐OX  designs on him.
Supplemental Information
Hair color: Black.
Eye color: Crimson.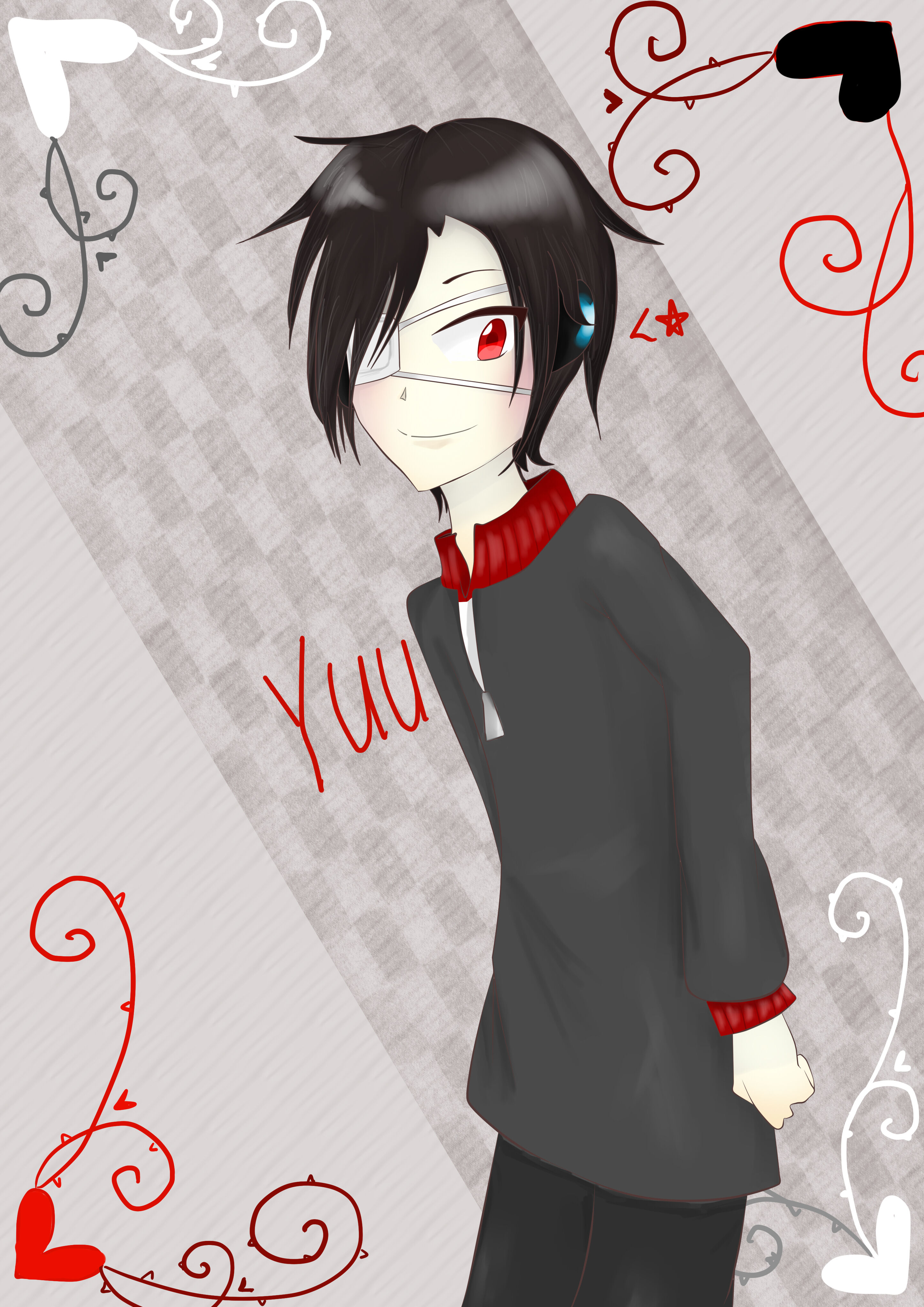 Headphones: Black with a blue X on the left and a red O on the right.
Shirt: . A simple white T-shirt.
Jacket: Black, with red turtle neck.
Pants: Normal black pants.
'Shoes:' Normal black shoes.
Voice Configuration
His voicebank is still available, however is in the worst state. Bear with it.
Newer version and appends are on the way, wait for it!
Relationship
Kazumine Akira - Friend who can stand his annoyance.
Chitose - One and only cousin.
REi ZERO - His annoying twin sister.

Facts
Unlike his sister, his name is spelled normally, Yuu.
Yuu was designed only in 2 days unlike his sister.
He is not a human.
Usage Clause
Do not change any appearances that already be given out unless there is changes that have been made by the creator.
Ask for permission first if need to use the name for a Role Play.
Certified true and correct from Yuu and REi's creator, iZeroSalt. Please do not change anything here without my permission.
Thanks Afien for that line. I can't think of anything.