YUNA KION


(Japanese: 基音ユナ - きおんゆな - Kion Yuna)

NAME INTERPRETATION:
基音 (Kion; Fundamental Tone)
ユナ (Yuna) - Witten in Kanji, 湯女

(湯; Yu) means hot water, (女; Na) means women.

TYPE: MONOloid
MODEL: MNL02 - Laminated at the back of her shirt.
GENDER
Female
VOICE RANGE
D4 (G3~C#5)
RELATED CHARACTERS
Tsuna Kion (Male counterpart by pitch manipulation)

AGE
16 (Official Age)
GENRE
Any
HOMEPAGE
Yuna Kion's Blog
WEIGHT
100 lbs (45kg)
CHARACTER ITEM
Blue violin (1)(2), Blueberry
CREATOR
Aeri (dA/Twitter)
HEIGHT / MEASUREMENTS
5'3ft (160cm)
VOICE SOURCE
Aeri
PICTURE LINK LIST
CONCEPT ART, PIAPRO, PIXIV, DEVIANTART, GOOGLE IMAGE
BIRTHDAY
March 3
LIKES
Cute stuff, sweets, fish, pure clean water, playing violin.
MEDIA LIST
NICO NICO DOUGA, YOUTUBE, SOUNDCLOUD
RELEASE DATE
October 5, 2011
DISLIKES
Ambiguity, the unknown, polluted water
SIGNATURE SONG
Mermaid
PERSONALITY: Yuna admires and adores Wakana Ayane as her #1 UTAUloid idol. She points out that Wakana is cool, strong and intelligent.

Yuna has a platonic friendship with Kaeru Kowairo, they hold a special place in each other's heart. But as soon as Wakana starts to bully Kaeru, she couldn't decide whether she should help or admire Wakana. She's also the only one who calls Kaeru as "Kae-chan"

Although Tsuna Kion is her counterpart, she consider him as her older brother. She likes to whine at him when she's upset.


BACKSTORY: Without any reason, Yuna originally existed as an undine. Beside a river, in the middle of the forest, Kaeru found her and take her back with him, thus they befriended. When he asked for her name, she answered "Yu (湯)", Kaeru then added "Na (女)" into her name.
Character Design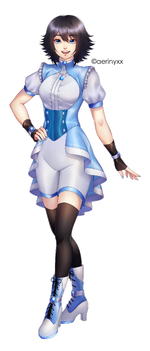 Hair color: Dark blue-black
Eye color: Deep sky blue
Earring: Aquamarine blue
Shirt: White and blue
Coat: Blue and white
Glove: Black
Pants: White and blue
Socks: Black
Boots: White and blue

Nationality: Malaysian-Japanese
Race: Undine
Favourite phrase: 甘いは〜! (Amai wa~!; Sweet~!)
Voice Configuration
5th October 2011 - ACT1 (CV) supports Romaji and Hiragana.
Download: http://www.mediafire.com/?uq4uz57ot7oxv4t
ACT1 fixed oto.ini: http://www.mediafire.com/?r42occ5aykc3ju9

16th December 2012 - ACT2 (CV) supports Romaji and Hiragana.
Download: http://www.mediafire.com/?oa7sfd2tpez334n

20th January 2019 - ReACT2 (CV) supports Romaji and Hiragana.
Download: http://www.mediafire.com/?2blzxdcphu149bv
Genderbend
Tsuna's voice can be gotten by setting Yuna's flag to g+10
MNL Members
Extra Related Characters
Facts
Kaeru taught her how to play violin and sing.
Her violin can either be an acoustic violin or an electric violin.
Her friends teases her by calling her "tuna".
She eats anything except sea creatures.
She has a necklace with a fish illusion that glows in the dark or in contact with water.
She has a Pisces symbol (♓) as her birthmark on her back.
Her hair will grow long when she's underwater (to emphasise her as an Undine)

Certified true and correct from Yuna's creator, Aeri. The contents of this page is subject to change without prior notice.
Community content is available under
CC-BY-SA
unless otherwise noted.