Yumeki Tamashine

Japanese: 夢来 魂音 - Yumeki Tama(shi)ne

NAME INTERPRETATION:
Yumeki means to be dreams (yume) come (ki) "dreams come", Tamashine (or tamane) means to be Soul (tamashi) sound (Ne). Which would become something like "Dreams Come, Soul sound".

TYPE: UTAUloid
MODEL: NONE
GENDER
Male
VOICE RANGE

E2~C5

RELATED CHARACTERS

Ryan Loundyheart (Friend or cousin)


Lira Loundyheart  (Close friend)


Kazami Ryoko     (Helper friend)

AGE
17
GENRE
Jrock/Jazz
HOMEPAGE
Site
WEIGHT
N/A
CHARACTER ITEM
N/A
CREATOR
PXDZ
HEIGHT
178cm
VOICE SOURCE
PXDZ
PICTURE LINK LIST
NONE
BIRTHDAY
January 15
LIKES
A lot of things
MEDIA LIST
YOUTUBE
RELEASE DATE

January, 20, 2013 (CV)

DISLIKES
A lot of things, too
SIGNATURE SONG

'Brave Heart '~=~=~=~=~=~=~=~


Watashi wa Yume (not released)

PERSONALITY: There's not. His personality is the same as the character of the song.
Supplemental Information
Hair: Short, shinning brown and Gray.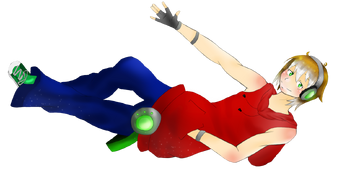 Headgear: None
Eye color: Green
Earphones: Gray with a green ball in the center
Nationality: Russian-Japanese Clothes: red shirt; blue pants;
Voice configuration He sounds better in low or medium pitches, but he's also ggod in high pitches, using Scream or "child" bank.
In order to make Yumeki's VB sound better, you should use the flags (base) H0Y0B0 in the notes or use, without flags, the resampler bkh01. Also, if the song is high-pitched, you, probably, should put the notes one octave down.
CV Voice Bank

Usage Clause
If you want to use Yumeki Tamashine, you're free to, for NON-COMMERCIAL use only. For commercial use, you need to ask for express permission from the creator, through the email: dogdog.marques@gmail.com. The production of fanarts of is approved, and encouraged. However, you are NOT allowed to change his physique's concept, his personality, or his Voice Bank!
Acknowledgment
Special thanks go to Chershire Lidell for help with Yumeki's oto.ini and AkaneSD for draw Yumeki's design.
Yumeki Tamashine are property of Pedx (a.k.a PXDZonechannel on Youtube).
 This article is written and certified true and correct by the author of the character. The details seen here may be subject to change without prior notice.
Community content is available under
CC-BY-SA
unless otherwise noted.