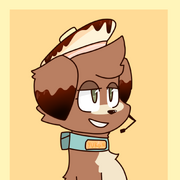 type: Animaloid UTAUloid
NAME INTERPRETATION: Yukon River
gender
female
age
1 (human years)

15(dog years)

weight
16 kg
birthday
26/March/19
breed
Nova Scotia Duck Toller
likes
Food, naps, video games, walks, wwII docs, computers, shiny pretty rocks.
dislikes
summer heat, sharp rocks, baths, water, slow feeder bowls.
Character item
ar-15/ yellow duck plush (name: Marble)
About
yukon is fairly aggressive towards strangers. She has a obsession with wwII

and usually spends her free time watching documentaries on it. Yukon also

works on computers as a hobby and is very good at it.

natonality
Canadian
related characters
Koronba 4GOU (Friend)
creator/voice/artist
Mint.shiba.tea (Mac_n_Cheems)
links
https://www.youtube.com/channel/UCwVgP4v-UMKNhjuIJ6iYNrg
languages
Japanese Kana encoded, Romaji Encoded Vb
APPEARANCE
burnt orange with cream and syrup colored patches of fur. Wears a Sea green collar and a pancake beret with a ribbon that looks like a piece of raw bacon along with a black headset with blue and orange stripes
HISTORY
Yukon has been a work in progress since November 2020 and was made with the help of her creators brother. Yukons design was originally based on the Butter Dog meme but went through a few changes and developments. Yukon has been through many trials and tribulations and still isn't completely finished but she is in the works.
VOICEBANKS
https://www.dropbox.com/home/Yukon%20Novaloid%20UTAU%20Voicebank/Yukon%20Novaloid%20UTAU

Community content is available under
CC-BY-SA
unless otherwise noted.