YOINE TSUKI

(Japanese: 良い音ツキ - よいねつき - Yoine Tsuki)

NAME INTERPRETATION:
良い音 (Yoine; Good Sounded)
ツキ (Tsuki; The Voicer's Name of this UTAU.)

TYPE: WONDEROIDs

MODEL: 92-9

GENDER
Male
VOICE RANGE

ACT1: C3 - D#4

ACT2: C3 - Various (Can sing higher than female range)

RELATED CHARACTERS

Mai Yukiri (WONDEROIDs)

Luna Akimine (WONDEROIDs)

AGE
20
GENRE
Any
HOMEPAGE
Facebook
WEIGHT
60kg
CHARACTER ITEM
Voicer's Teddy Bear (as seen on the picture)
CREATOR
HaganeTsuki
HEIGHT / MEASUREMENTS
6'0" feet (180 cm)
VOICE SOURCE
HaganeTsuki
PICTURE LINK LIST
Facebook
BIRTHDAY
-Secret-
LIKES
Rilakkuma
MEDIA LIST
RELEASE DATE

ACT1: (25th March 2011)

ACT2: (27th Janurary 2012)

DISLIKES

People Abusing him

SONG COVERS

ACT1: The Dying Message-short-

ACT2: aa, subarashiki NYAN sei

PERSONALITY: He's a total shy guy, he keeps himself quiet all the time.
Supplemental Information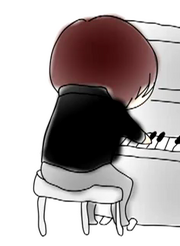 Hair Colour: Reddish Brown
Assessories: A Half-Frame Glasses(For ACT2 Only)
Eye Colour: Dark Brown

Dress:
ACT1: Black shirt or a Black collar wool Jacket with grey long pants.
ACT2: Dark Purple Hoodie with Grey Harem Pants plus Boots.
Voice Configuration
TECHNICAL INFORMATION ACT2
Yoine Tsuki WONDEROIDs_92.9
ARCHIVE FILENAME
Yoine_Tsuki_ACT2_92_9.rar
ARCHIVE FILESIZE
6.65 MB
DATE RELEASED
25 March 2011
NO. OF VOICE PHONEMES
117
TOTAL UNCOMPRESSED SIZE

10.5 MB

PHONEME ENCODING

Hiragana

Romaji

AVERAGE FREQUENCY
261.5 Hz (C4)
FRQ FILE PRESENCE
YES
LANGUAGES SUPPORTED

Japanese

UNOFFICIAL SUPPORTED LANGUAGES
NONE
OTO.INI PRESENCE
YES
TUNED OTO.INI
YES
LANGUAGE PARSED VIA OTO.INI
NONE
VOICEBANK AUTHOR
HaganeTsuki
TECHNICAL DIRECTOR
HaganeTsuki
RECORDING SOFTWARE USED

Cubase 5.0
Community content is available under
CC-BY-SA
unless otherwise noted.