YOH SEINE


(Japanese: 正音陽 - せいねよう- Seine Yoh)

NAME INTERPRETATION:
Written in Kanji, 陽(Yō; Sun, Positive), reads よー (Yoh)


Alias: Seine Yoh (Sound of Justice and Positive) - Written in Kanji, 正音陽

TYPE: HOODIEloids

MODEL: Y - imprinted at his right arm (big) | hood-17 - imprinted at his left side jacket

GENDER
Male
VOICE RANGE
270.7 Hz (C#4)
RELATED CHARACTERS

Ui (Cousin)

Usui (Rival, black-listed)

Sakurane Gakuya (friends)

AGE
15
GENRE
Any
HOMEPAGE
WEIGHT
56kg/123 lbs
CHARACTER ITEM

Hamburger

CREATOR
Lotus Leaf

(You Tube)

HEIGHT
168 cm/5'6" feet
VOICE SOURCE
Hasu (ハス)

a.k.a. Lotus Leaf

PICTURE LINK LIST

ALTERNATIVE DESIGN ,CONCEPT ART, DEVIANTART, PIXIV , GOOGLE IMAGE , PIAPRO

BIRTHDAY

1 January

LIKES
Hamburger, hoodies,  Ui.
MEDIA LIST
YOUTUBE , NICO NICO DOUGA
RELEASE DATE

26 August 2011

DISLIKES
Sadness and boring things.
SIGNATURE SONG
N/A

PERSONALITY: Cheerfull and sometimes noisy, but also turns to nervous easily. Hot-tempered and not really honest with his own feelings.
Character Design
Hair color: Almost black
Eye color: Gray
Shirt: White with a zipper
Jacket: Dark blue
Pants: Gray
Feet: Gray-white
Nationality: Indonesian-Japanese
More Related Characters
Fellow HOODIEloids :
Usagi
Aoi Tamashi
Revo Otome
Natsuno Kyou
Yuki Samui
Kirei Oheina
Megao
Friends :
Idols :
Voice Configuration
Currently supports Romaji, encoded in Japanese. His voicebanks may be downloaded at this direct link:
ACT 1 - (no longer available)
ACT 2
TECHNICAL INFORMATION

YOH SINGLE VOICE VER. 2 (正音陽単独音 Ver. 2)
ARCHIVE FILENAME
Yoh Seine CV.zip
ARCHIVE FILESIZE

13,236,700 bytes

DATE RELEASED
August 26, 2011
NO. OF VOICE PHONEMES

177

(no octave shifts)
TOTAL UNCOMPRESSED SIZE
14,868,480 bytes
PHONEME ENCODING

Romaji

(Hiragana aliases)
AVERAGE FREQUENCY
208.7 Hz (G#3)
FRQ FILE PRESENCE
YES
LANGUAGES SUPPORTED
Japanese
UNOFFICIAL SUPPORTED LANGUAGES
UNKNOWN
OTO.INI PRESENCE
YES
TUNED OTO.INI
YES
LANGUAGE PARSED VIA OTO.INI
NONE
VOICEBANK AUTHOR
Hasu (ハス)

a.k.a. Lotus Leaf

TECHNICAL DIRECTOR

Lotus Leaf

RECORDING SOFTWARE USED
UNKNOWN
DOWNLOAD LINK: ACT 2 direct download or from the homepage (click dl + links)

SPECIAL NOTES:
Please down the ust about 1 octave (if ust above C4) and always set his flags (with ctrl+E) into g+1 (g+1Y0) - g+5 (g+5Y0) (g+2Y0 is the best for him) if you make his ACT2 singing.

____________________________________________________________________________________
Append
-COLD Append-
DEMO(s) :
- Cold Hands https://soundcloud.com/zetsubou-hasu/yoh-cold-append-cold-hands
- WAVE http://www.youtube.com/watch?v=hqqEFKzUxBQ
- Artificial Enemy (release) http://www.youtube.com/watch?v=pvbIi7s2NJg&feature=youtu.be
COLD Append (released on May 7, 2013) - http://www.4shared.com/zip/WLHBsToF/Yoh_Append_Cold.html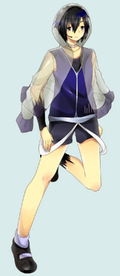 -SOLID Append-
DEMO(s) :
- Night Talk Deceive https://soundcloud.com/zetsubou-hasu/yoh-solid-nighttalkdece
- Ama no Jaku Freedom http://www.youtube.com/watch?v=XCSR2f6v9Yo&feature=youtu.be-
- Story (release) http://youtu.be/B-tJhiVyM9s
SOLID Append (released on October 19, 2013) -  http://www.4shared.com/zip/iduI88gt/yoh_append_solid.html?
Facts
He's actually a moody 

and hostile towards another person before gradually showing his warm side over time.

He doesn't like how Usui treated him, they oftenly fight for Ui.
Usage Clause
Avoid any mary-sues.
Do not change any appearances that already be given out unless there is changes that have been made by the creator.
Allowed to be use freely, not for SALE.
Please DO NOT make him as a PITCHLOID.
Do not make him singing anything offinsive.
If you make him singing, send the video / song link to his creator, Lotus Leaf.
Certified true from Yoh's creator, Lotus Leaf. Please do not change anything without Zetsu-Bou inc.'s permission.
Community content is available under
CC-BY-SA
unless otherwise noted.