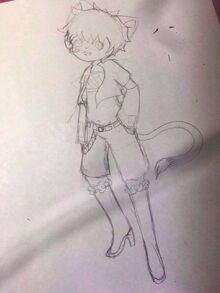 Supplemental Information
Hair Color: His hair color changes. Sometimes Red, Sometimes Gray or Silver
Headgear: Ear strap connecting to mouth piece
Eye Color: His eye colors change. Sometimes Blue, Sometimes Red and Rarely both Red(right) Blue(left)
Clothing: Open midriff shirt with a midriff net shirt, shorts, and white boots
Nationality/Race: Japanese and a Neko
Physique: Slim and somewhat girlish
Voicebank releases
CV Voicebank: http://www.mediafire.com/file/cxaqboiidvqecy6/Yochina+Oto.rar
Whisper Append: Coming Soon
Sweet Append: Coming Soon
Soft Append: Coming Soon
Cute Append: Coming Soon
Adult Append: Coming Soon
Power Append: Coming Soon
ACT 2 Voicebank: Coming Soon
Trivia
Yochina is very nice and sweet when you get on his good side,but he is very violent when you try to steal Rou or WALTT away from him.
He hides his Yandere personality because he is afraid of scaring people.
He despises DENGEN a lot because he is WALTT's "special friend."
Yochina can be considered as a Deredere when he's not mad.
Rumors say that Yochina is a robot because of his voice,but that's for the fandom to decide~