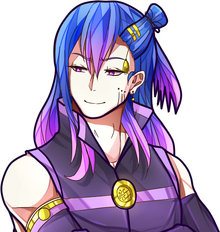 Nama: Yarui Munegi (や る い む ねぎ)
Name Interpretation: N/A
Pronounced as "Ya-rui  Mu-ne-gi"
Type: VENOMloid
Model: Crystal-EE
Gender
Male
Voice Range
B3 ~ D5
Related Characters
Hyero Munegi (husband)

Zeke (Fellow VENOMloid)

Kaguma (Fellow VENOMloid)

Age
52
Genre
Unspecified

(excluding any related to sexual contents)

Homepage
V I R U S
Weight
62kg
Character Item
Sword
Creator
V I R U S
Height
181cm
Voice Source
V I R U S
Picture Link
-
Birthday
28/2

(Pisces)

Likes
Hyero

Zeke

kaguma

sword

singing

aggressiveness

gothic themes

darkness

crystals

Media List
SoundCloud
Release Date
23/12/2015
Dislikes
liars

'fake' people

Signature Song
Liars Dance (VCV)
Personalities : Despite being old, his stamina is over the top. like bih try him and he'll WWE you. Though on the side note, he's fatherly, loving and caring. Holds psychotic tendencies whenever he is in battle stance.
Background Story : After abandoning his previous area, he proceed to put up a career as an idol because why not? fuck it. He say. He was fed up.
The previous area was badly managed, and he couldn't stand that and moved to a different area, to a much more modern and more well managed community. Of course, those travelling put his money on line. He was completely drained after he moved out. 
With his skill and talent he sharpened, he sing, to gain money. But he was surprisingly offered by the authority the next few days to submit himself as an idol, and was encouraged to create his own group, and that's the moment he met Kaguma and Zeke.
Supplemental Information
Hair : Ocean Blue with Purple tips
Eyes : Magenta
Inner Shirt : white
Suit : a Dark themed suit with purple linings on some places
Head Gear : Hairclip
Pants : white
Boots : black with purple linings
Race : Human
Nationality / Races : Malaysian-Japanese
Voice Configuration
VB DOWNLOAD
VCV ACT2 Kuat:
☀https://mega.nz/#!z19k2KAZ!AUIFv_MQWZc4nhXiqgVD9by5hMMHB7kqf22gGAhayos
flags ( THIS IS A MUST ) : Y0P99B0H0C99BRE0B15g+30
Related Character
Hyero Munegi ( Husband )
Rainy Hizami ( Partner / Fellow VENOMloid )
Nanamiya Kaguma ( Fellow VENOMloid )
Nanamiya Zeke ( Fellow VENOMloid )
Naine Eito ( Fellow VENOMloid )
Toki Imo ( Fellow VENOMloid )
Leon ( Fellow VENOMloid )
Facts
Loyal toward his husband , Hyero
loves to sing , especially with the VENOMloids.
A skillful swordsman
He loves strong beat drop.
cool , he might be psychotic, but he's chill.
A hardworking idol , never gives up on achieving what he wants
He only care for those who had tolerated him for a long time
Usage Clause
NEVER claim the character as yours.
VOICEBANK ALLOWED to be used freely.
DO NOT do anything to damage the character's name or image.
CREDIT THE CREATOR with every usage.
Permission to use is encouraged.
Solos/Duets/Choruses are ALLOWED.
Permission to use him in Role Plays (RP) is COMPULSARY.
If one is caught breaking the rules, please REPORT to the creator IMMEDIATELY.
This article is written and certified true and correct by the author of the character V I R U S ( aka. Nanamiya Zeke / Nabila Hani ) .Please DO NOT change anything here without his permission.
Gallery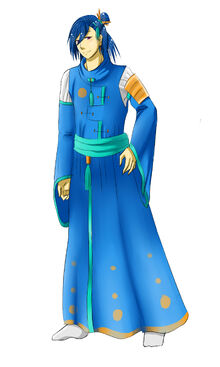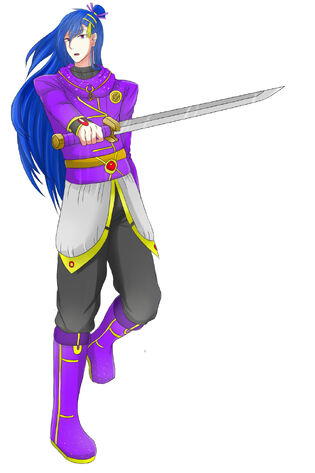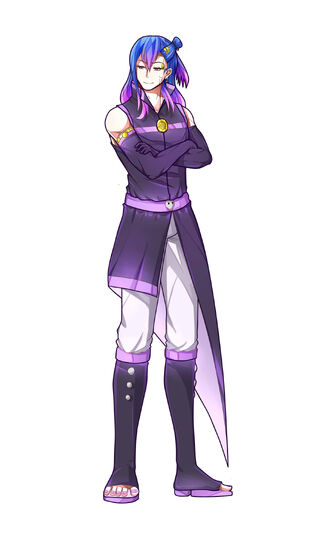 Community content is available under
CC-BY-SA
unless otherwise noted.