XIA YU YAO (夏語遙 Xià Yǔ Yáo) is a bilingual Mandarin Chinese and Japanese vocalist developed for the UTAU program by E-CAPSULE Co. Ltd.. She is the first craft of VOICEMITH and is known as the most famous virtual singer in Taiwan.
Concept
According to her character page, XIA YU YAO is a gentle, caring, and empathetic person who has confidence in her own voice. She enjoys taking care of others and making them feel warm. She was noted to have a "WIND" attribute, meaning that once the magic was integrated into her voice, it would cleanse people's hearts and make bad emotions drift away into the wind, comforting sad people and bringing them hope.
When YU YAO was first introduced, she was noted to be 17 years old. Her age was changed to 18 on June 22, 2016.[2]
About:
Gender: Female
Age: 18
Height: 158 cm
Weight: 45 kg
Birthday: November 10
Item: Dish soap and dish sponge
Etymology
Her surname, Xia (夏; Xià), means "summer". Her given name is formed by two characters: Yu (語; Yǔ), which means "to speak", "words", or "language", and Yao (遙; Yáo), which means "distant" and "far away". Combined, it refers to her carrying her voice from a very far distance closer to people's ears.
According to an article written on November 8, 2014, XIA YU YAO's name was specially chosen so that it could be written the same for Chinese and Japanese. "Xia" was chosen with hopes that the sound can be as energetic as summer while "Yu Yao" was chosen with hopes that the sound would be widespread. Thus, her name could be read as "to spread the passionate, summer-like voice further".[3]
Her full name was usually stylized as "XIA YU YAO", however, "Xia Yuyao" is another official way to write her name.[4]
Appearance
Hair color - Dark Brown.
Hairdo - Messy hair with two ponytail braids below her head.
Eye color - Green.
Headgear - (ORIGINAL & OUTSIDE) White headset with light green wire and accents. (V2) Same as original, except light green is replaced with icy blue. (INSIDE) Same as OUTSIDE, save for aqua replacing light green. (V3 Snow Dreams) Same as V2, except wiring was recolored to sky blue while accents were changed to off-white.
Outfit - In her ORIGINAL and OUTSIDE design, she wears a white spaghetti strap dress over black tights, and a frilly white and light green garter. Over her dress, she wears an oversized white and sliver coat, underneath which are white and black opera gloves. The interior of her coat is laced with black trim. A spearmint colored flower pattern decorates the hem of her jacket. Her boots are white with black soles, tied with green and brown laces. Her INSIDE outfit consists of a sleeveless dress with a white top, teal shorts, and black train. Attached to the hem of her train is a feathery see-through fabric. A black bow with a teal stone adorns the collar of her top. On each of her hips sits a white four petal flower connected to the other by a black chain (sort of like a belt). She wears thigh-high black heeled boots with teal soles. Around her shoulders is a short, frilly white cloak. On her hands are short, feathery, black gloves with teal bands. In her V2 design, she wears a clear raincoat-like hoodie over a sporty black crop top and a pair of shorts. Her boots are short with a white scallop pattern. Teal ribbons are tied around her ankles. Frilly white cuffs adorn her wrists. Her V3 outfit is a white dress with long puff sleeves and a hood with a light blue interior. She wears black tights, knee-high white boots with scalloped rims and blue laces, short white gloves, and a white bowtie decorated with a cotton ball. A large white and blue bow is tied on the back of her dress.
Relations
A Fu (阿福) - (VOICEMITH has released a voice sample of A Fu, but A Fu is regarded as a Fool's Day UTAU project)
OSCAR (奧斯卡) - fellow male VOICEMITH vocalist, themed after "FIRE".
JOAN (蕎安) - fellow female VOICEMITH vocalist and OSCAR's older sister, themed after "ICE".
ZETA (婕妲) - fellow female VOICEMITH vocalist, themed after "DARKNESS".
LanCee (蘭希) - fellow female VOICEMITH V-Tuber, themed after "LIGHT". She is also part of the V-Club series.
History
Pre-production
E-Capsule Co. Ltd. had initially approached Yamaha Corporation with the intent of producing XIA YU YAO for the VOCALOID3 engine; however, the two corporations had differing opinions regarding the sales of the potential voicebank, which led to her production as an UTAU instead. This information was not made known until January 17, 2015, when comments posted to VOCALOID3 Xin Hua's Facebook group revealed YU YAO's relation to the VOCALOID franchise. A tuner for Xin Hua's demo songs further clarified the claim.[5][6]
2013
In 2013, E-CAPSULE decided to start the development plan of the "VOICEMITH" project. They began recruiting voice actors from the Taipei Dubbing Association with requests for a "new and comfortable voice". In total, there were thirty-eight applicants in February 2014 and five candidates were selected for the finals in March. In April and May, tests were conducted to select the grand winner, Mi Yang, an amateur Taiwanese voice actress at the time. According to an interview, Mi Yang expressed excitement about the recruitment and participated as soon as possible after learning about it through a friend who knew the organizer. She also said she was surprised when she learned she was chosen. She said she was very fond of virtual singers and was honored by the opportunity. During the recording process, in order to protect Mi Yang's throat, the daily recording time was no more than four hours and there was a break every twenty minutes. She recorded about 14 hours for the Japanese voicebank and about 110 hours for the Mandarin Chinese voicebank. Regarding her reaction to the final result of the voicebank, she noted that there were similarities between her voice and the voicebank, yet the machine noise was heavier.[7] izumi was chosen as the illustrator for XIA YU YAO, who was selected based on certain conditions:
The artist must have a certain reputation.
The artist must be from Taiwan
The artist must have experience with Japanese styles.
R18 works were prohibited.
The design was to be based on the voice. At the time, the final work had not been completed, but the song was given to izumi to listen to for inspiration though must adhere to certain conditions:
The clothing and accessories must be memorable.
Traditional ethnic totems must be avoided.
"Non-human" designs must be avoided.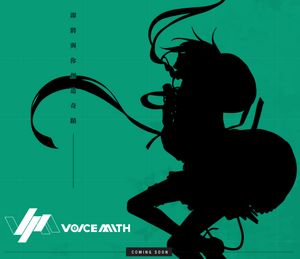 2014
On October 31, 2014, VOICEMITH, under E-CAPSULE Co. Ltd., announced they would be holding a new virtual singer product launch conference at the GIS TAIPEI TECH Convention Center at the National Taipei University of Technology on November 8.[8] The release of the singer's album was to be published on the same date.[9] XIA YU YAO was introduced as a free UTAU with information about her voice and recording details released. The official website was expected to release on November 10. Her name was the result of specially selected characters that could be written the same for Chinese and Japanese. Students had an opportunity to attend events in the future as the Department of Multimedia Design would be using XIA YU YAO in the courses.[10]
2015
Version 2.0 of her Mandarin Chinese voicebank, which included phonetic improvements, was announced on August 4, 2015[11] along with a new plugin called Import Lyrics which converted hanzi lyrics to pinyin. It was later noted that some lyrics conversions could be inaccurate because of the plugin's reliance on Microsoft's Hanzi-to-Pinyin database, so on August 7 a guide was published to aid users in using "sub" to change pronunciations.[12] A minor update to V2, dubbed V2.01, was announced on August 9 and released on the 14th.[13] A new summer outfit, also designed by izumi, was published on the 11th.[14]
On November 4, two "append" libraries to her Mandarin V2 voicebank were released: OUTSIDE and INSIDE. Each one contained four voicebanks: OUTSIDE had Unique (same as the previous V2 voicebank), Canto (a falsetto), Dear-O, and Special-O, while INSIDE had Peace, Muffle, Dear-I, and Special-I. They were scheduled to release on the 10th, coinciding with the first anniversary of her V1 voicebank.[15] On the 5th, two outfit designs were announced for both appends: while the design for OUTSIDE was the same as one of her 2014 artworks (namely, the side silhouette from her release demo video The Voice from the Summer), the design for INSIDE was a brand-new artwork by artist Nyororo.[16] Three days later, three new plugins (Set Lyrics, Add VC, and Clear VC) were also announced to be included with the appends.[17]
Most UTAU users in Taiwan had already noticed that her Mandarin oto.ini was not completely configured, so two of such users fixed it. To this, VOICEMITH said: "We will release a new combined Append & Original voicebank and fix it in 2016."[18]
2016
Beta versions 3.0 of her Mandarin voicebanks were teased on January 26, 2016 through two demo videos comparing, respectively, V2 OUTSIDE (direct lyrics input plus continuous sound by plugin) to V3 OUTSIDE (plugin lyrics with no tuning)[19] and V2 INSIDE to V3 INSIDE.[20] On February 26, the V3 bundle, which packaged together all appends along with a newly-improved oto.ini, was finally released[21] along with again a new character design (also designed by izumi) which was unveiled on the demo song "Snow Dreams". A minor revision, version 3.01, was quietly released on or after August 11, 2016.
2018
A crowdfund was announced on April 20, 2018 for a music album titled LISTEN, where different producers would collaborate. The goal was NTD$300,000. It was to be VOICEMITH's first official album, characterized for including different composers from different countries and in different music styles. The campaign started on May 2 on crowdfunding service FlyingV, set to run until June 15;[22] one week later, a sketch of what would be the album's cover artwork (artist then unrevealed, but eventually revealed days later as VOFAN, previously known for doing the official art for Xin Hua and for the Taiwanese boxart of VOCALOID2 Sweet ANN) was shown.[23] The crowdfund ended totaling NTD$688,050. VOICEMITH pledged to continue publishing updates on its production.
Preorders (exclusively at 2 unknown stores) of the physical version were taken from June 18 to 24 and sold out, with no plans to issue more physical copies, leaving the digital version as the sole remaining version still available to date.[24] It was finally released on August 31 and could be downloaded from iTunes or PCStore.
2022
On May 27, 2022, VOICEMITH posted an announcement written in binary code that translated to "YU YAO AI sound library crowdfund preparation". The image accompanied with the post featured a logo of the third character of her name (YAO) next to a standing microphone.[25][26] On May 28, another announcement was posted with an image featuring the number 8 and five colored blocks that hinted at her design's color scheme. This time, the text needed to be decoded with Caesar Cipher while using the number 8 to dictate the number of shifts (rotations) needed to solve it. The message translated to "YAO Synthesizer V AI".[27][28] The second tweet was deleted the next day.
Voicebank distribution
Voicebank
Reclist
Range
Description
DL
Mandarin 1.0
CV+VC
D3~G4
"There are two versions: one that is pinyin-encoded (meant for users in mainland China) and another that is zhuyin-encoded (meant for Taiwan users). The zhuyin-coded version cannot accept pinyin input."
Retired
Japanese 1.0
CVVC+VC
D3~G4
"Kana-encoded. This is the only Japanese voicebank ever released for her."
Voicebank download
oto.ini by まいこ
Mandarin 2.0
CV+VC
D3~G4
"Released on August 4, 2015. The phonemes and the voicebank in general were improved."
Retired
Mandarin 2.01
CV+VC
D3~G4
"Minor update to 2.0 that was released on August 11, 2015."
Retired
Mandarin Append OUTSIDE
CV+VC
D3~G4
"Released on November 10, 2015. Includes four voicebanks: Unique, Canto, Dear-O, and Special-O. Unique is her V2(.01) voicebank and Canto is her falsetto. Dear-O and Special-O (the "O" standing for "Outside") are voices with different pronunciations."
Retired
Mandarin Append INSIDE
CV+VC
A3~G5 (Peace)
D4~D5 (Muffle)
C3~E5 (all others)
"Also released on November 10, 2015. Includes four voicebanks: Peace, Muffle, Dear-I, and Special-I (the "I" standing for "Inside"). Muffle is based on Yamine Renri's "EDGE" voicebank."
Retired
Mandarin 3.0
CV+VC
A3~G5 (Peace)
D4~D5 (Muffle)
C3~E5 (Dear-I & Special-I)
D3~G4 (all others)
"Released on February 26, 2016. Pronunciation was improved (including a fixed oto.ini), plus both appends OUTSIDE and INSIDE were merged into a single package."
Retired
Mandarin 3.01
CV+VC
A3~G5 (Peace)
D4~D5 (Muffle)
C3~E5 (Dear-I & Special-I)
D3~G4 (all others)
"Minor update to 3.0 that was quietly released on or after August 11, 2016."
Bundle download (including all 8 voicebanks)
Inside donwload only
Outside download only
Voice details
Input - (Mandarin) Pinyin or Zhuyin encoded; (Japanese) Kana encoded
System - Microsoft Windows
Optimum - Tempo: 80~135 BPM (Mandarin 1.0/2.0x/OUTSIDE/3.0x-OUTSIDE, Japanese 1.0), 60~115 BPM (Mandarin INSIDE/3.0x-INSIDE)
Details - WORK IN PROGRESS
Issues -

Most UTAU users in Taiwan noted that her original Mandarin oto.ini was not completely configured. This was officially fixed in Mandarin 3.0 (V3).
Voice samples
Demos
Additional information
Terms Of Use
Note: If these clauses are accepted, then usage of the voicebank and the character are allowed by the company. If they are not accepted, then their usage is prohibited. The company is not responsible in case of liabilities for misuse or copyright violations. If any of these rules are broken, the company has the right to take legal action against the person (acording to Taiwanese law) or terminate its services in any moment.[29][30]
Company must be first contacted for any for-profit usage prior to release (application for voice usage and image usage are separate).
Neither the voicebanks nor the illustrations can be modified (for the latter, exceptions are made for scaling and rotation), nor can works based on such modifications be published.
They cannot be used in a way that infringes on copyrights, nor with offensive content (crime, hate speech, etc.).
They cannot be used for political campaigns.
The voicebank cannot be redistributed.
In case of publishing sensitive or graphic content, a warning must be put in place. (Example: "This work contains "XXXX"; viewer/listener discretion is advised.") This applies to:

Illustrations containing any degree of nudity or suggestive in nature.
Any criminal act (even if simulated).
Suicide (including mentions of it; same thing from above applies.)
Gore, blood, cruelty, or any similar type of material; if it's strong or can be sensitive to or hard-to-accept for adults.
Drugs.
BDSM.
Fetishes.
Abuse.
Incest.

Cosplay of the character is allowed.
Her clothes can be changed.
She can be used for holidays such as Christmas, New Year, St. Valentine, etc.
Marketing
As an UTAU character, XIA YU YAO was featured in numerous official merchandise, including but not limited to albums, cardholders, apparel, prints, banners, clocks, and more. She had LINE stickers made for her and she made an appearance in the mobile game "Wǒjiā Gōngzhǔ Zuì Kě'ài" (我家公主最可愛) where Mi Yang, her voice provider, reprised the role.[31] She also made an appearance in the Chinese version of the RPG Age of Ishtaria as a daily login promotional event, a ★7 witch-themed card, and as the vocalist for the theme song "Ishtar" (伊絲塔).
Trivia
XIA YU YAO's release date, November 10, is treated as her birthday.
She was created so that her company E-CAPSULE could enter the VOCALOID market via UTAU, which caused enough confusion over whether she was being developed for both singing-synthesis engines, since initially she was announced as a virtual singer.

Not to mention that E-CAPSULE was also known for distributing some "Engloids" (English VOCALOIDs) in Asia, which again furthered the confusion about the software she was going for. It wasn't until November 8 when she was confirmed for UTAU.
Reputation
XIA YU YAO became a hit immediately after her release with her first promotional PV reaching 100,000 views within 20 days and dominating the bilibili UTAU charts in November 2014. She was later regarded as one of the most famous Taiwanese virtual singers, especially due to E-CAPSULE Co. Ltd., under the project name of "VOICEMITH", being the first Taiwanese company to produce one.
References
External links