Virgil Ouji


(Japanese: ヴァージル王子 - Vajiru Ouji)

NAME INTERPRETATION:
Virgil (There is no Japanese meaning for the name Virgil but it is a form of the earlier name Vergillius.)
王子 (Ouji; Prince)

TYPE: NIJILOID
MODEL: Pink 08
GENDER
Male (Also a crossdresser.)
VOICE RANGE
A3-C5
RELATED CHARACTERS

Alexis Lilith (love interest)

AGE

Real Age: 18

GENRE
Mixed Genres
HOMEPAGE
YouTube Channel
WEIGHT
129 lbs
CHARACTER ITEM
Strawberry
CREATOR
HEIGHT
5'4" feet 
VOICE SOURCE
trap-sama
PICTURE LINK LIST
BIRTHDAY
May 15th
LIKES
Strawberries, flan, the colour pink, meat cleavers
MEDIA LIST
RELEASE DATE
April 18, 2013
DISLIKES
Sour candy, spicy food
SIGNATURE SONG

PERSONALITY: Virgil, along with being an UTAU, is the character I created to represent myself, hence myself being his voice provider. He's a very happy go lucky guy who has a love for nature and all things pink. He can make friends with just about anyone easily.
General Information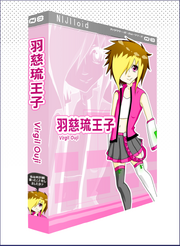 Hair color: Brown with a blond fringe/bangs that cover his right eye.
Eye color: Pink.
Clothing: Throughout all of his outfit changes, two things that have stayed are the fact that he wears a vest with a skirt. In his current outfit (though not drawn in on his icon) on the left side of his head set, there is a giant transparent pink musical note that somewhat resembles an antenae.
Virgil first started out as a drawing a friend did of myself in a visual kei styled outfit. He started with a very masculine and dominant personality. After a little bit, he became my most frequently used OC and eventually I gave him a complete change. His hair was made longer, as well as a whole change in his personality. He went from being a rough and tough dominant male to a happy and peppy crossdresser. Virgil went through many design changes that started with his 0.1 somewhat inappropriate outfit  to then his 0.2 manly crossdresser look to finally his 0.3 somewhat young boy look.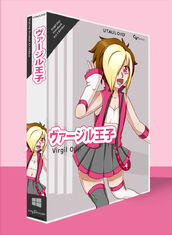 In 2020, Virgil was picked up for use again by me, and currently he has new voicebanks in the works.
On the left is a most recent rendition of what his current box art would look like is he was a stand alone program.
While he has has many changes to his design, at the moment there are no changes planned for his default outfit.
Currently he has a website dedicated to him as a place to hold any and all information and artwork about him. You can find more artwork of him, or information on him on my social media as well.
Voice Configuration
Virgil is a CV voicebank. He is compatable in romaji and hiragana. His voicebank is available for distribution via the link below. Sounds are being added as well as there are constant edits being made to his oto.ini file.
He works best with the TIPS.exe resampler and in some cases works with fresamp.exe.
As of now, there are 2 CV APPEND voicebanks for him, but has none have yet been distributed. They are his 'Moe' and 'Deep' voicebanks.
As of now, Virgil is at ACT2. Viva Happy is the demo song for his ACT2 voicebank.
There is also a cover album for Virgil up for download: Doki Doki Love <3
TECHNICAL INFORMATION
Virgil Ouji ACT2
RECORDING SOFTWARE USED
Audacity
DATE RELEASED
April 18, 2013
LANGUAGES SUPPORTED
Japanese
NO. OF VOICE PHONEMES
143
PHONEME ENCODING
Hiragana and Romaji
OTO.INI PRESENCE
YES
TUNED OTO.INI
YES
VOICEBANK AUTHOR

trap-sama

TECHNICAL DIRECTOR

trap-sama

DOWNLOAD LINK: Virgil Ouji ACT2
SPECIAL NOTES:

Normally Virgil uses no flags for his songs, but sometimes the "g+5" flag needs to be used. Usually he works best with the TIPS.exe resampler.
Gallery
Supplemental Information
Virgil has a higher voice than normal males should. That, along with the fact that he crossdresses gives people the impression that he is a female.
His sexuality is currently unknown, and he has no current lover.
Catchphrase: "I'll try my best!!"

His nickname is Vivi.
Usage Clause
1. DO NOT genderbend Virgil without permission.
2. If Virgil is used in a video, song, and/or drawing, it is requested that a link be send to trap-sama.
3. Do not redistribute Virgil's voicebank without explicit permission from trap-sama, his creator.
4. These rules apply to all things relating to Virgil, including (but not limited to) his PMD model, his songs, and the character himself.
5. Virgil may not be used for profit of any kind.
6. Do not edit Virgil's voicebank without permission.
This article is written and certified as true by trap-sama/NijiUTAU. The details seen here may be subject to change without prior notice.
External Links
Community content is available under
CC-BY-SA
unless otherwise noted.