| | |
| --- | --- |
| | Violet Aura |


"I might not have the best voice; I might fail at some notes,

        but as long as I can reach your soul, nothing else matters"

GENDER
Female
VOICE RANGE
  C4 as main note
AGE

20

VOICE TYPE

  Melodic

HOMEPAGE
Deviantart,  Youtube,soundcloud
WEIGHT
62 kg
CHARACTER ITEM
Northern Star, "the ocean"
CREATOR
Aura Autumnus
HEIGHT
168cm
VOICE SOURCE

Aura Autumnus

MEDIA LIST
BIRTHDAY
Feb 2
RELEASE DATE
Oct 31, 2013
DEBUT SONG
EDEN
PERSONALITY:  She is quite shy, but that doesn't stop her from helping others. Whenever aid is needed, she's there. She doesn't mind if she's the main voice or part of a choir, she always wants to share a song with her people. Her weakness is that she is really moody, but if she feels bad she will come back brighter and more cheerful than ever. She has 5 moods.
Supplemental Information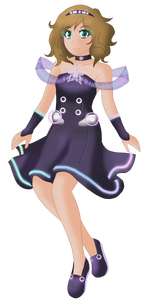 Hair color: dark blonde
Headgear: double black hairband
Eye color: turquoise
Outfit: The classic one is a black dress with lace strip around the chest. Can also wear a choker made of the same material. Her shoes are also black. A star brooch is placed between the lace cloth and the black fabric (she literally speaks through her soul). Both dress and nails are iridescent: they shine in different colors depending on the light source. The dress resembles the Aurora Borealis.   
"The Ocean": She can be represented with an ether stream spinning and floating around her, with hand-shaped waves. That is called "The Ocean of Souls". Anyone singing with her is part of that Ocean.      
Voicebanks
"My aim is to be able to sing in many languages,
        since they all deserve to be turned into a beautiful melody."
Japanese voicebank  DOWNLOAD HERE  //  DEMO
Violet Aura NORTHERN STAR. 9 VCV library including all 5 moods.
EUPHORIA SCALE (5 PITCH VB) AS DEFAULT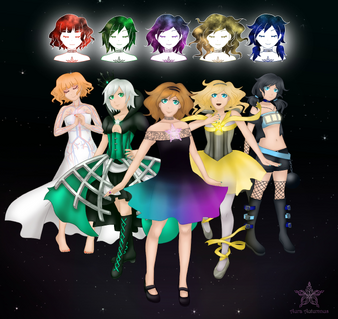 Violet Aura

Delirium 

Glorious
R.E.M
Silent&Caged

Normal

(1C4)

Falsetto

(2C4,2A4)

Power 

(3F4,3A4)

Soft

(4C4,4A4)

Dark 

(5A3, 5F3)
Other languages
Guides
Several guides are available for you to record in order languages, probably for Violet Aura's recording too.
You have Multilingual, Italian, French, Spanish, German, Swedish, Hungarian, Dutch, Catalan.... Some include oto.ini's. You can download them HERE if you want to.
MMD and LipSync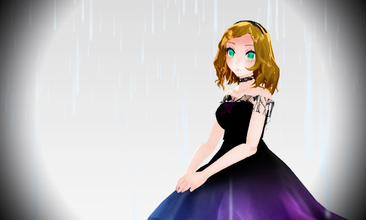 TDA model modified by nya-101 . Download is available HERE , and you can also choose between medium or dark blonde, as you wish.    
Model made by PRISM . Download is avaliable HERE.    
Trivia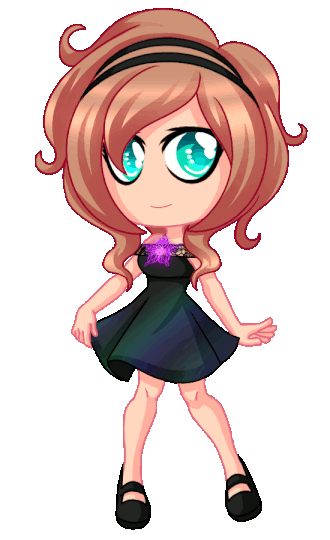 - It is the first UTAUloid with a Catalan voicebank.
- Violet Aura's name was not chosen by her voicer, but it stayed.
- The 5 hands can also be called the 5 Auras, because they also represent her 5 different moods.
- The star brooch was designed to decorate a cardboard box in start shape. The idea was to have a Gothic star based on the cathedrals in Barcelona. It looked so great it was proclaimed the official symbol.
- Unlike the Japanese voice banks, the rest that are monolingual have original reclists that you can access too.