Victory Ne


(JAPANESE: ヴィクトルユ・ネ - Victoy Ne)

NAME INTERPRETATION:
ヴィクトルユ (pronounce as Victory )

ネ ( Ne in katakana )

TYPE: NONE
MODEL: F.576
GENDER
Male
VOICE RANGE
C3 ~ C4 (268.9 Hz )
RELATED CHARACTERS

Ruu Rakuraine (Adopted Mother)

Yakuaka Kirito (Big Brother)

Ryoukuji Hiko (Friend)

Ai Hiko (Big Sister )

Minoru Nashine (Friend)

Felly Kone (Friend)

AGE
8
GENRE
 ?
HOMEPAGE
(none)
WEIGHT
38 kg
CHARACTER ITEM
English Key
CREATOR
Satsuki98 , VictorZan (Satsuki98's brother)
HEIGHT
122 m
VOICE SOURCE
Victor Zan (Kida Masaomi Masakmi)
PICTURE LINK LIST
BIRTHDAY
21 February 20XX
LIKES

Robots, Any kind of English Key, Burger. Most of all are Rootbeers.

MEDIA LIST
RELEASE DATE
coming soon
DISLIKES
Sticks, Old People, Caveman and Iceman.
SIGNATURE SONG
PERSONALITY: He's smarter than his sister and his brother but weaker than both of them. He really love robot and really like to be alone. He's a little Tsundere in front of new people. He hate crazy thing that his brother always do. He often nag at his sister who always sneak out for snack in the midle of the night. He's nice and love to joke -even tough he isn't a great joker-.
Supplemental Information
Hair color:
Dark Blue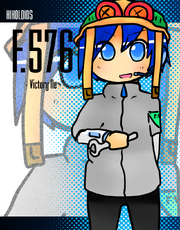 Headgear:
a hat with big magnificat glass
Eye color:
Baby Blue
Earphones:
Blue with Baby Blue strips.
Dress:
a normal short jacket with a zip.
Nationality/Race: none
Fun Fact
He is smarter than his sister and brother. He really scared to meet someone new. He doesn't want to be called ordinary. He really fanatic about robot. He also really love GUMI.
Voice Configuration
His act 1 will be supporting 2 language. English and Japannese. His voicebank still in process. But, you can see him sing from Satsuki98's YT page.
Both of Author allowed you to use him sing and draw him as long it doesn't cause trouble with other utau and always credit the owner. This voicebank is free, that's mean NOT FOR SELLING. Don't redritribute his voicebank without both author's approval. DON'T steal Victory Ne's VB and design. Now, feel free to use as long it follow UTAU rules of Usage.
Certified true and correct from the Victory Ne and Hikoloid creator, VictorZan and Satsuki98. The Content of this page is subject to changes without prior notices
~Satsuki98
Victory Ne ACT 1.5 - On recording
Community content is available under
CC-BY-SA
unless otherwise noted.