Vibrate

( Japanese : ヴァイブレテ -  vaiburete )

NAME INTERPRETATION: 

Vibrate - to shake slightly and quickly, or to cause something to do this, in a way that is felt rather than seen or heard. His voice source is from phone's vibrate sound.

TYPE: UTAU MODEL: ?
GENDER

No Gender 

(He/Him)

VOICE RANGE
C3~D#4 (F#3)
RELATED CHARACTERS
Kanomwan

(Friend / Creator)

(Friend)

(Friend)

(Friend)

AGE
1 
GENRE
N/A
HOMEPAGE
Kanomwan's World
WEIGHT
2 kg
CHARACTER ITEM
n/a
CREATOR
Kanomwan
HEIGHT / MEASUREMENTS
 20 cm
VOICE SOURCE
Kanomwan's Phone
PICTURE LINK LIST
N/A
BIRTHDAY
3rd December
LIKES
Small Thing , Friendly looking thing
MEDIA LIST
YouTube
RELEASE DATE
N/A
DISLIKES
Lound thing , Anything that bigger than him
SIGNATURE SONG
-
PERSONALITY: Scare Every Thing. Very soft and sensitive.
VoiceBanks
btw , He is a robot.
CV
https://drive.google.com/open?id=0B4ARNM2BPvHndEIyU0dWXzJuR0E
Term of Use
* You can do Art, Music and Other Fanworks as long as the use is non-commercial.
* For Commercial content (This include any thing that creat for earnig money such as Music for your EP or album , Doujinshi , Keychain etc.) Permission is required. 
* Propaganda and Hate Speech work are FORBIDDEN
* R-18 / R-18G content are allowed.
* NL/GL/BL content are allowed.
* Derivative characters/voices are FORBIDDEN
Concept ART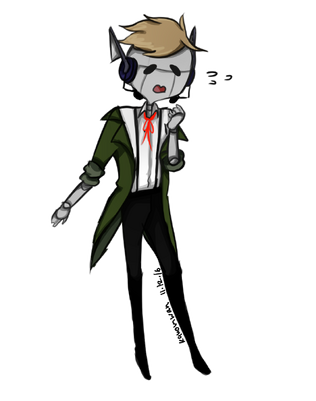 Community content is available under
CC-BY-SA
unless otherwise noted.