Supplemental Information
Hair Color
: Black (However, it's more like a dark shade of gray.)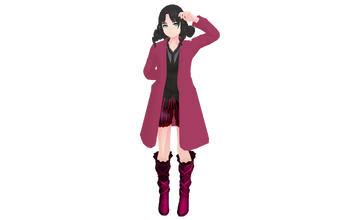 Eye Color: Blue-green
Headgear: None
Clothing: A dark pink overcoat, a dark gray vest with a light purple shirt and a black tie underneath it. As well as dark purple striped shorts with frills at the bottom of it (The shorts appear to look similar to bloomers.) and magenta boots with multiple belts of the same color wrapped around them.
Facts
Varentain was originally created as a joke, made just to sing 'This is the 'Dojyan' Committee'.
'This is the 'Dojyan' Committee (Varentain's fake demo song) was a version of 'This is the Happiness and Peace of Mind Committee' that had all of the lyrics replaced with the word, 'Dojyan', which translates into 'Tada'.
Varentain's first name, as well as a few parts of his appearance, have been derived off of a character that Tantei no Magatsu (Varentain's creator and voice provider) likes from a manga series called JoJo no Kimyou na Bouken/JoJo's Bizarre Adventure. The character mentioned has the name, 'Funny Valentine'. 'This is the Dojyan Committee' has been shown to have a reference to that character as well, due to 'dojyan' being a well known word that he says.
Since his name is the Romaji for 'Valentine', his name is technically 'Barentain'.
Community content is available under
CC-BY-SA
unless otherwise noted.