VIOLETTE


(Japanese: ビオレト)

NAME INTERPRETATION:


VIOLETTE: From french, meaning "Purple"                         

TYPE: UNDECIDED (Nigeloid?)
MODEL: 04
GENDER
Female
VOICE RANGE
Optimum: C3-C5
RELATED CHARACTERS

ROUGE ("Sister")


Vert ("Brother")


CAFE ("Brother")


BLEU ("Sister")


GRIS ("Brother")

AGE

4 (It has been 4 years since her manufacture.)


Appearance: Adult


Voice: More mature, very soft

GENRE

Best: Unknown


Works best for Harmony

HOMEPAGE
http://projectrouge.blogspot.com/
WEIGHT

???

CHARACTER ITEM
NONE
CREATOR
Asparagus
HEIGHT
6'0" (182.88)
VOICE SOURCE
Asaparagus
PICTURE LINK LIST
BIRTHDAY
April 10
LIKES
Unknown
MEDIA LIST
RELEASE DATE
March 31, 2012
DISLIKES
Unknown
SIGNATURE SONG
NONE

PERSONALITY: An older sister type with a reputation for wearing coctail dresses in inappropriate situations (Read: always). Likes to go do her own thing, and will sometimes dissapear for days on end. Has an obsession with card games and to an extent, gambling. Sometimes she orders a coctail and carries it around with her purely for aestetic as she can't drink them.
Supplemental Information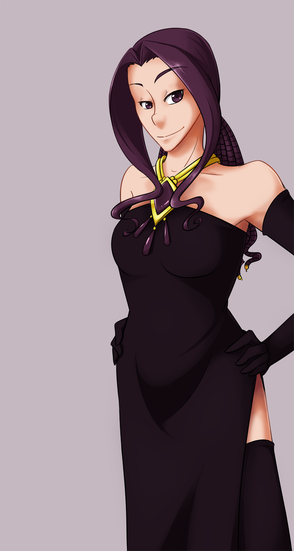 Hair color: Purple
Headgear: None
Eye color: Purple
Earphones: None
Dress: Purple skinny coctail dress with leg slits, gold necklace, thigh high boots.
Alternate outfit: Long sweater with leggings (rarely seen)
Nationality/Race: Android (In the silly fanfic, Japanadaamerican.)
Voice Configuration

The following information is certified correct and true by the creator. The details seen here may be subject to change without prior notice.
Japanese Voicebank: Hiragana and Romaji encoding.
Voicebank link: http://www.mediafire.com/?r5nyicd6h4wlr0h
Notes: Works best between C3-C5. Best resamplers to use with her are Fresamp and bkh01. Best flags change from song to song, but a usual combination is Y0B0H0F1. Works best in duets.
Suggested Listening
For a more complete list, please visit Here

Princess Mononoke (Newcomer Video)
Alluring Secret ~Black Vow~ (With CAFE)
Hohoemi no Bakudan (Smile Bomb) (With CAFE)
Cruel Angel's Thesis (with ROUGE)
Katayoku no Tori (Release video)
Division -> Destruction of Project ROUGE
Your flowers and rain, My Voice
Original Songs
Silence (Unreleased, pending video)
Song for Peach (Unreleased)
Community content is available under
CC-BY-SA
unless otherwise noted.