UTSUKUSHII TAMASHII


(Japanese: 魂 - 美しい - (Tamashii Utsukushii)

NAME INTERPRETATION:
美しい (Utsukushii; Beautiful, full of youth)
魂 (Tamashii; Spirit, uplifting aura)

TYPE: UTAUloid
MODEL: 04
GENDER
Male

VOICE RANGE
F3-A5
RELATED CHARACTERS

Kasane Teto (Idol)
Miku Hatsune (Idol)

AGE

18

GENRE
Pop
HOMEPAGE
None
WEIGHT
130 lbs.
CHARACTER ITEM
Fan
CREATOR

Spencer

HEIGHT
5'6
VOICE SOURCE
Spencer
PICTURE LINK LIST
BIRTHDAY
October 2nd, 1993
LIKES
Candy, chocolate, sticky things, nice people, singing
MEDIA LIST
YouTube
RELEASE DATE

February 14th, 2011

DISLIKES

Spiders, sadness, people who pick on Vocaloids

SIGNATURE SONG
Melt

PERSONALITY: He's extremely shy until you get to know him. He's a well-rounded individual who will try to make the best of any situation and trys to get along with everyone. Although joyous, he's also capable of deep thinking and enjoys everyday miracles such as the blossoming of a new flower.
Discontinuation
This voice bank has been discontinued. A new UTAUloid is now taking his place. Please download his voicebank instead!
Supplemental Information
Hair color: Light blonde.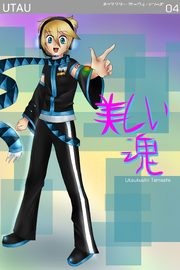 Eye color: Blue.
Earphones: Black with blue illumination.
Clothes: Black t-shirt with blue trim, black track p
ants with two white lines that illuminate. Two black sleeves with blue trim, one in Kasane Teto's style, the other wielding a volume board layout.
Nationality/Race: Caucasian/Canadian.
Act 2
Hair color: Light blonde.
Eye color: Blue.
Earphones: Black with a blue gem that illuminates.
Clothes: Black coat with lights and a .wav reader and trimmed with fur; A formal silver button-up shirt; Black belt with blue illumination; Black pants with lights, two white stars, an imprint on the upper thighs, and an illuminated .wav line; Black shoes with lights and blue trim.
Nationality/Race: Caucasian/Canadian.
Voice configuration
Utsukushii's voicebank is encoded in Romaji. He can only sing in Japanese for the time being. A voice sample can be heard on his YouTube page.
Act 2
Utsukushii's Act 2 voicebank is encoded in Romaji with full hirigana aliases. Upcoming appends and a VCV can be looked forward to in the future.
Trivia
His dream is to become known and admired by Kasane Teto.
He dislikes all seafood.
He is a Canadian UTAUloid.
He is always concerned about his weight, but knows that it's fine
He shows a much more unusual amount of emotion than other UTAUloids or Vocaloids. He doesn't consider himself an android.
Voicebank
Discontinued. Please see Migoto Iki for his voice bank.
ACT 2
Utsukushii Tamashii's ACT 1 update has been changed to a complete upgrade to ACT 2. Because so much has been changed, it will be a new ACT instead of an update. His voicebank was released on September 5th, 2011.
Terms of Use
He is free for use. He's not to be distributed as a commercial product. Please do not say that you created him, in any way shape or form. His voicebank is free for using and downloading once released.

This page has been verified by the owner, Spencer, and is subject to change without notice. Do not vandalize.
Community content is available under
CC-BY-SA
unless otherwise noted.