| | |
| --- | --- |
|   | Trace |

GENDER
Nonbinary [they/them]
VOICE RANGE

C3~C6

RELATED CHARACTERS
AGE
16
GENRE
Any
HOMEPAGE
MalCat UTAU & Stuff
WEIGHT
100lbs
CHARACTER ITEM
N/A
CREATOR

MalCat

HEIGHT
5'4"
VOICE SOURCE
MalCat
PICTURE LINK LIST
Gallery
BIRTHDAY
December 28
LIKES
Being around friends, sweets
MEDIA LIST
YouTube, SoundCloud
RELEASE DATE
December 28, 2013
DISLIKES
Being alone
SIGNATURE SONG
Evil Food Eater Conchita
PERSONALITY: Quiet, cold, and deadpan, Trace is a blind ghost who rarely leaves their house, often relying on their boyfriend Umbra Luna and their many other friends made over the years.
Character Design
Hair color: Blonde
Eye color: Black/Light Blue (no pupils)
Outfit: Long black coat, Orange tee shirt, Black pants, Black choker, White belt.
Other: Long, thin metal right arm with claw-like fingers.
Voicebank
Released Banks
TraceVCV [Japanese]

Recommended resampler: EFB-GT or default or TIPS
Recommended flags: Y0H0b0c99g-7
Planned Banks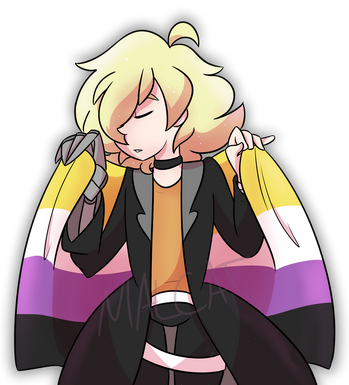 Rules
General:
Be nice to them
Nobody other than the creator can distribute their voicebank.
Nobody other than the creator can take credit for them.
If you use them in anything, be sure to tell me and link me to it through my Talk page or note me on DeviantART!
DO NOT change any sounds in their voicebank.
DO NOT involve them in any offensive content.
Genderbending is fine.
Editing the oto.ini is fine, but do not distribute it.
Use in violent/gorey/horror content is fine.
Use in sexual R18+ content is fine.
All information on this page has been posted and confirmed true by the creator of this UTAUloid.
Info may be subject to change without prior notice. (Last update: 3/15/19)