Kokoro Tonda

(Japanese: こころとんだ / Kokoro Tonda )

                  

NAME INTERPRETATION:

とんだ = Tonda ( Blown, flew)

こころ = Kokoro (Heart)




TYPE: UTAUloid 

MODEL: 00 (It's on her right arm, just above the fish net.)

GENDER
Female
VOICE RANGE
 G#3`D5
RELATED CHARACTERS

Kasane Teto (idol)

Kasane Ted (Secret Crush) 

Kokoro Kikoeru (Big Sister)

Makupo-rein Ryoni (Friend)

Rakugaki Ai (Friend)

Kokoro Shou (Big Brother)

Carl Lamp (living room lamp)

AGE
14
GENRE
Any
HOMEPAGE
WEIGHT
 97 Ibs (43.9kg)
CHARACTER ITEM
 Valentine's Hearts/Pie
CREATOR
Ashu
HEIGHT / MEASUREMENTS
5'1' (155.4cm)
VOICE SOURCE
Ashu
PICTURE LINK LIST
NONE
BIRTHDAY
Febuary 14th, 1999
LIKES
Pie, Valentine's day, hearts, family, pink, bright colors
MEDIA LIST
Youtube
RELEASE DATE
August 8th, 2013
DISLIKES
Sour foods/snacks, dark colors, bitter people, the dark, spiders, 
SIGNATURE SONGS
NONE

PERSONALITY: Tonda is bubbly and kind. Always willing to help out and is headstrong. Despite her small frame and fragile looking body structure, she is surprisingly strong.
Supplemental Information
Hair Color: Blonde, her hair is tied up into two pony tails, the right pony tail have a pink streak through it. Her bangs rest over her left eye, covering it up completely.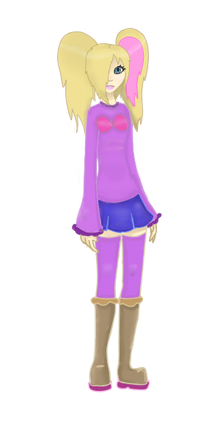 Headgear: NONE
Eye Color: Her right eye is a sea blue, her left eye is a very dull and pale blue.
Dress: Tonda wears a purple sweater with a pink bow resting over her chest. He skirt is a dark blue and her socks reach her thighs, they are the same color as her sweater. Her boots are a light brown.
Nationality/Race: Japanese
Favorite/Catch Phrase: "Life isn't nice, unless you have love."
Voice Configuration
Tonda Kokoro (こころとんだ) CV+VV
Download: http://www.mediafire.com/download/n4wmf0ddm49dw5p/Tonda+Kokoro+CV%2BVV.zip
About This Voicebank:
Monopitch CV bank, including VV sample.
Encoded in Romaji, aliased in Hiragana.
Optimal Settings: Flags: Y0B0H0g-2 Resampler(s): resampler, fresamp
Examples using this bank:
https://soundcloud.com/ashunotfocused/utau-tonda-tonda-night-fever-tonda-kokoro-vb
https://soundcloud.com/nekonightz/kokoro-tonda-act-4-demo-q
---------------------
Tonda CVVC_English LITE
Download: http://www.mediafire.com/download/atezybz6k5xsun7/CVVC+English+Tonda.zip
About this Bank:
Monopitch CVVC LITE English
Optimal Settings: Flags: Y0B0H0g-2 Resampler(s): resampler, fresamp
Examples using this bank:
https://soundcloud.com/ashunotfocused/utau-english-release-yellow-tonda-kokoro