| | | |
| --- | --- | --- |
| |   | THEIA OG03 |

NAME INTERPRETATION:

Titan Goddess of sight & heavenly light

TYPE: OGIENOID
MODEL: OG03 - The 3rd model of the OGIENoid series
GENDER
Female
VOICE RANGE
F3~D4
GROUP / TEAM
AGE
Late teens (Physically)
TIMBRE
Vivid, feminine
HOMEPAGE
STUDIO OGIEN
WEIGHT
100 lbs / 45kg
GENRE
Pop, EDM, Rock
CREATOR
HEIGHT / MEASUREMENTS
5'3" / 160 cm
VOICE SOURCE
N/A
PICTURE LINK LIST
ReferenceBoxart
BIRTHDAY
April 13th
LIKES
Springtime, butterflies, rain showers
RELATED CHARACTERS
RELEASE DATE
September 15, 2018
DISLIKES
Bitter cold, people who kill bugs, waste/litter
SOCIAL MEDIA
Twitter
PERSONALITY: Theia is perhaps the most energetic, optimistic individual you may ever meet! Constantly looking on the bright side, it's hard to get her down.
Character Details
Body Type: Rectangle
Body Class: Underweight
Hair: Short, straight
Color: Lilac
Eyes: Gold
Technical Details
Romaji encoded
Kana aliased
UTAU PC
Voice Configuration
Released Voicebanks:
Original:
The voice bank is a monopitch VCV aliased to hiragana. This vb is meant to be user-friendly towards oversea users.
This voice has a total of four VCVs. Check the readme for instructions on how to use each.

Native: normal tone
Flutter: soft
Swarm_alternate: normal power
Swarm: belting power (older voice, donated by voice provider)
Planned Voicebanks:
MONARCH:
VCV Japanese with two appends. Tripitch.
Includes Vocal Fry, JP growl, Falsetto and other recordings.
SOAR:
Arpasing English with two appends. Tripitch.
ETHER:
VCCV English, monopitch with Vocal Fry.
May include appends.
MMD Models
No public releases at this time.
Appearances
STUDIO OGIEN: Theia is a member of the STUDIO OGIEN cast.
Facts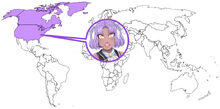 Theia OG03 is canonically a biodroid (an android created with organic materials-in this case, synthetic organs).
She is Homosexual. Her romantic orientation is up for interpretation.
She is canonically Native American.
The original leader of the OGIENOIDs
She is the voice inheritor of Kuroi Karasu, a now-retired UTAU.
Usage Clause
TERMS OF USE:
R-18 Content Allowed? Forbidden
Commercial Use of Voicebank Allowed? With Purchase of License
Commercial Use of Character Allowed? Permission Required
Do these terms apply to derivative characters/voices? Derivatives of any sort are forbidden
OFFICIAL ILLUSTRATION:
Use of official illustration and reference is permitted so long as no profit is being made from their use.
Changing the size, mirror reversing and other editing is allowed so long as the character remains recognizable. This means that images depicting Theia OG03 may not be edited to resemble or create any other character.
Credit artist Ceren/LadyOgien when using these images.
This page is managed by LadyOgien. Please do not edit this page.