TESUNE RIZU


(Japanese: てすねりず)

NAME INTERPRETATION:
Rizu short for Rizumu Meaning Rhythm
TYPE: Cheetahloid, MEMEroid
MODEL: 01
GENDER
Female
VOICE RANGE
UNKNOWN
RELATED CHARACTERS

utshi utskii (best friend)

Ken Shippai (best friend)

Aki Atari (friend)

Michi Yuko (friend)

Tengoku Hyo (mom)

Desho Hiruni (Boyfriend)

Supaka Hanashi (Friend)

Rest of the Cheetahloids

AGE
15
GENRE
pop/rock/upbeat songs
HOMEPAGE
youtube
WEIGHT
100 lbs (45 kg)
CHARACTER ITEM
PIE
CREATOR
MikuMikuCheetah
HEIGHT
5'5" (160 cm)
VOICE SOURCE
Christina Fabos
PICTURE LINK LIST
CONCEPT ART, rizu DEVIANT ART, GOOGLE IMAGE
BIRTHDAY
Nov 21, 1999
LIKES
pie,singing dancing and playing
MEDIA LIST
NICO NICO DOUGA, rizu+%22テスネリズ%22 YOUTUBE
RELEASE DATE
May 4, 2013
DISLIKES
Mean/To serious People
SIGNATURE SONG
https://www.youtube.com/watch?v=2bLDjTrpWoc Super Nuko World
PERSONALITY: Tesune Rizu is a fun kitty cat that can like anyone at the first sight she is extra fun and loves to sing ovcorse she can get over exited sometimes and get herself into trouble but she is great fun friend. Rizu is curretly in a relasonship with Desho Haruni and has 3 baby children.
Supplemental Information
Hair color: (Red)
Headgear: (Cat Ears)
Eye color: (Light Blue)
Earphones: (None)
Dress/Outfit: (Act 2 Design -----> Rizu act 2 wears a grey dress with a light red overhang, she ties a dark grey shall with a speaker and dark red lining over it. she has a dark red bow on the right side of her dress with a transparent tulle fabric hanging up and over her sholder, she also has a dark red bow in her hair, Rizu also has red and black sleeves and boots )

Others: (she is a cat so she has cat ears and a tail)

Nationality/Race: (human and a cat)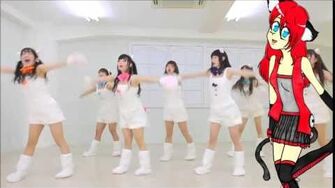 Voice Configuration
EDIT i made this wiki so long ago and rizu is very updated now USE HER ACT 2 IT IS 50 TIMES BETTER THEN HER FIRST ACT!!!
http://www.mediafire.com/download/y99iiz6stcszo2u/Tesune+Rizu+Act+2.zip
other voicebanks
CVVC English 
has oto problems but still an amazing voicebank! do not use resampler it does not work!
http://www.mediafire.com/download/xxqwdrakb6678b2/Tesune+Rizu+English+Voicebank.zip
APPEND POWER
a stronger voice  better quality then her act 1 not as good as her act 2
http://www.mediafire.com/download/tznj03rf31qi8rz/Tesune+Rizu+Append+Power.zip
APPEND SWEET
very cute voice has a ok quality vocal
http://www.mediafire.com/download/i2yd72xbgu40h8q/Tesune+Rizu+Act+2+Sweet.zip
Popular Appearances
youtube:
http://www.youtube.com/user/MikuMikuCheetah
Notable Works
stuff on youtube
Community content is available under
CC-BY-SA
unless otherwise noted.