Sylphia

シルフィア(Shirufia)  = Sylphia

Sylph = Spirit of Air. One of the Four Great Elements

Title = Blood Stained Sylph. Lost One. Chirping Bird
| Type: Fourthaloid | Model : 4GE-S |
| --- | --- |
| Voice Range: Unknown | Gender: Female       |
| Voice and Creator: Makka Yuki | Race :  Spirit                                 |
Age: 1560 Years Old                       
Genre : Pop , Ballad ,etc.
Weight :  Unknown
Likes : Wind, Flower, Typhoon, Toy

Height : 135 cm (Current Body)

               160 cm (Real Body)

Dislikes : Destruction,

                Bad Memories, Herself
Personality and History: the Lord Spirit of Air. the most kindest yet cruel spirit. Sylph lives with their
3 friends, Efreetion, Gnomea and Undine. They always helps each other, when the war broke out, the 
Ruler of All Spirits died and all spirits start to disappear, but the Four Great Spirit didn't disappear...only lost it's original body.
After Sylph wake up, she able to sing, because the harmony power of Wind that the Ruler give to Sylph. Because of this, Sylph
started to become a Diva and tried to resurrect all spirits that died. But, she cannot sing to long or else, she will died from blood
lost. (that's why she always wear bandage)
Supplemental Information
Hair Color: Green
Eyes Color: Sky Blue with purple sharp pupils
Skin Tone: White
Races / Nationality : Great Spirit. but, Lost her real body.
Lives Past: in Boundary Time
Present: in Japan
Favorite Phrase : I Love them...I alway act like a Big Sister to them..that's why...
Dress Color: Blue, Green, White
(Her Hands an Legs are hidden in the Dress)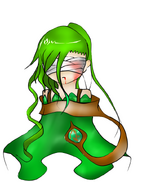 Community content is available under
CC-BY-SA
unless otherwise noted.