| | | |
| --- | --- | --- |
| |   | Sotto Dio |

NAME INTERPRETATION:
Sotto Dio: In Italian, it means "Under God"

Sotto: in japanese, means "Gentle; secretly"

TYPE: Girls that are smart, and nice. There you go, now you know his TYPE. HEHEHE~  (~*w*)~
MODEL: There isn't one; he's an angel, they don't exactly come with barcodes
GENDER
Male
VOICE RANGE
F1`F#4
RELATED CHARACTERS

Crush - NE

Idol- Kai Kim

AGE
21 (21000)
GENRE
Ballad, soft and slow songs.
HOMEPAGE
Unknown
WEIGHT
Its a secret~
CHARACTER ITEM
Bass Cleff necklace that he wears around his neck
CREATOR
SottoChi
HEIGHT
5 "10"
VOICE SOURCE
SottoChi
PICTURE LINK LIST
Deviantart
BIRTHDAY
February 24
LIKES

NE, Piano, sundubu jjigae, making funny faces, laughing, and ROMANTIC WALKS ON THE BEACH.

MEDIA LIST
 
RELEASE DATE
April 13, 2013
DISLIKES
Bitter melon soup, Bullies, and has an unatural fear of umbrella's
SIGNATURE SONG

Sotto Dio append "STRIKE" demo - iNFeCTioN

PERSONALITY: Sotto is a man, who is by no doubt in anyones mind; a player. He can hit on women like there's no tomorrow, and women dont mind flirting back. He is serious, and likes making jokes about his fellow utau. He is the adult of the house nevertheless, and takes in kids that have no other place to go. And at the end of the day, no matter how much of a arrogant; slightly-tsundere; or sinful angel he is, he is still a nice guy who loves to tease your heart strings.

PAST: Sotto is the prince of the angels, however, because of the fact that he was born with one wing, he was cast down from heaven. He sings so that one day god may hear him and let him back into heaven to regain his throne.
Supplemental Information
Hair color:
bright blonde hair
Headgear: none
Eye color: bright blue
Earphones: none
Dress: grey long sleeved sweater, black pants, white-yellow lines shoes (three yellow dots on the shoes.)
Accessories: bass cleff necklace, left metal wing, two light blue hair pins (placed next to eyes)
Nationality/Race: Thats up to you ;)
Favorite phrase: "I'm bored, entertain me."
Design
This is his Official Design. DO NOT CHANGE UNLESS GIVEN PERMISSION BY OWNER. YOU MAY ONLY CHANGE IT IF IT IS FOR A '''''SONG THAT REQUIRES DIFFERENT DRESS CHANGES.
IMPORTANT!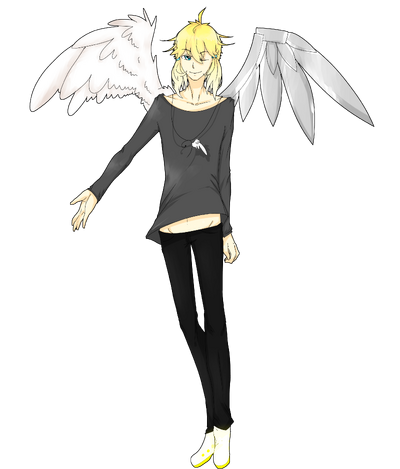 Sotto has TWO different forms. His first form is his angel form that only appears when he is wearing his necklace.
His second form is his human form, which is when he appears human and with no wings.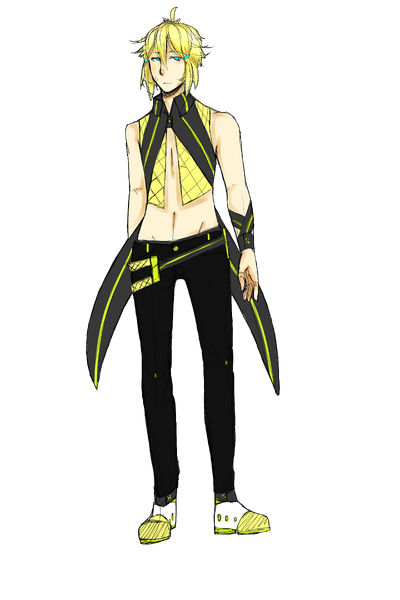 Voice Configuration
CV download: Sotto Dio CV bank
CVVC download:Sotto Dio: CVVC bank
CVVC append "STRIKE" download: Sotto Dio append STRIKE
USE RESAMPLER:
All banks have been updated. Older banks are not up to download anymore.
MMD MODEL:
FUN FACTS! (~*w*)~
Sotto was actually supposed to be a latin utau
Sotto had a partner by the name of "Aria", that was supposed to be an opera utau!
He is literally the 6th utau that the creator had made, the rest being random designs.
Beleive it or not, hes not a shota. Matter of fact, hes quite the serious type.
He was actually supposed to be realeased with an english voicebank.
His former parter known as "Aria" showed great resemblence to an utau named NE, and so, Sotto soon developed a crush on her.
When sotto takes off his hair pins, that means he is going to get serious about something.
Like every wonderful person, he has a tragic backstory. After roaming the earth for thousands of years, he watches the people whom he takes care of die. (so depressing ikr)
Community content is available under
CC-BY-SA
unless otherwise noted.