| | | |
| --- | --- | --- |
| |   | SKIPLOID |

ALIAS: Skippy


TYPE: FURloid
MODEL: 02-23

GENDER
Male
VOICE RANGE
C3-C5
RELATED CHARACTERS
AGE
20
GENRE
Rock, Pop, Techno
HOMEPAGE
WEIGHT
120 lbs (54 kg)
CHARACTER ITEM
Sketchbook/Microphone/Vanilla Ice Cream
CREATOR
Pokeluver223
HEIGHT
5'10" (178 cm)
VOICE SOURCE
Pokeluver223
PICTURE LINK LIST
CONCEPT ART, DEVIANT ART, GOOGLE IMAGE,
BIRTHDAY
February 23, 1995
LIKES
Ice Cream, Drawing, Dancing, Blue (Color), Ice Cream, Water
MEDIA LIST
NICO NICO DOUGAYOUTUBE
RELEASE DATE
October 30, 2011 (CV)

January 6, 2015 (VCV)

DISLIKES
Bugs (especially fleas/ticks), mean people
SIGNATURE SONG
Campanella (ACT 2.3)
PERSONALITY: A fun loving. energetic Husky who enjoys the outdoors singing dancing and drawing. He can be pretty shy around others. He is usually seen with a sketchbook in hand or microphone. He hates bugs and loves Vanilla ice cream. He will usually go by the nickname Skippy. 
Supplemental Information
Hair color: Blue
Eye color: Blue
Species: Husky
Skiploid Act 2.3 (CV)
.Zip .Rar
Skiploid 連続音 v1.00 (VCV)
Pokeluver223, the creator, states that Skiploid appears to work best with the Y0B0 flag. It is also recommended that TIPS or Fresamp Resamplers are used.
Skiploid in MMD
Skiploid has a MikuMikuDance (MMD) model created by PolygonCount
His model is free to download on Bowlrowl
Password and Model Usage Rules can be found here: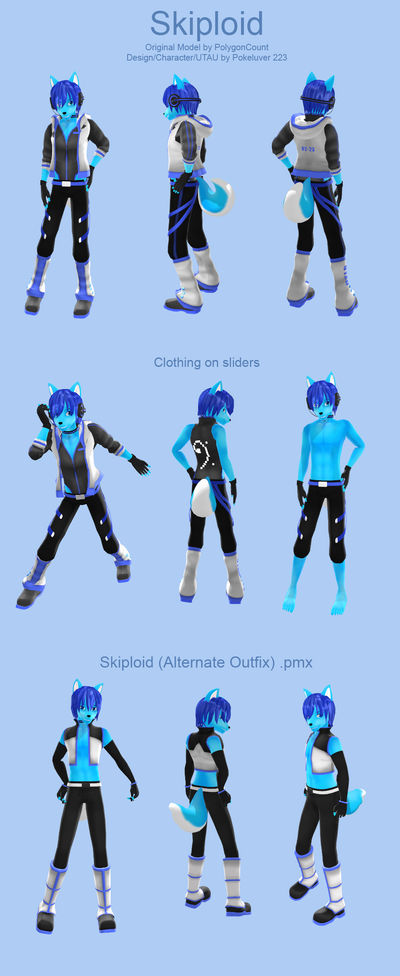 Model Usage:
-No edit
-No Redistribution
-No taking parts from the model
-No taking texture maps from the model
-No 'trading' the model
-MMD only
-Must remain as Skiploid character at all times.
-You are not allowed to use as your own OC. This includes renaming, or any kind of editing.

Contact model author for questions or commissions: PolygonCount
Contact for questions relating to the character or UTAU Pokeluver223

Violation of PolygonCount's rules may/will result in:

-Black Listing
(black listed users will be publicly listed as rule breaking users who deserve no privileges using PolygonCount models.)

-Ceased model distribution
(PolygonCount will cease distribution of some/all publicly avaliable models if rules are continuously violated.)


**RESIZING THE MODEL**The only edit allowed isiIf the model needs to be resized to be in relative proportion to that of other models, please do so in this manner:

Edit > Plugin > System > size (S) > [input a numerical value]
Visual guide of resizing the model: sta.sh/01e7z73ieouq
Voice Configuration
TECHNICAL INFORMATION

Skiploid Act 2
ARCHIVE FILENAME
Skiploid VCV.zip
ARCHIVE FILESIZE

123.51 MB

DATE RELEASED
10/30/11
NO. OF VOICE PHONEMES
206 (no octave shifts)
TOTAL UNCOMPRESSED SIZE
25.9

MB

PHONEME ENCODING
Romaji
AVERAGE FREQUENCY
C3
FRQ FILE PRESENCE
Yes
LANGUAGES SUPPORTED
Japanese
UNOFFICIAL SUPPORTED LANGUAGES
English
OTO.INI PRESENCE
Yes
TUNED OTO.INI
No
LANGUAGE PARSED VIA OTO.INI
Japanese
VOICEBANK VOICER
Pokeluver223
TECHNICAL DIRECTOR
Pokeluver223
RECORDING SOFTWARE USED
N/A
VOICEBANK EXTENSIONS PRESENT
N/A
Download Status/Link
Roleplay, Fanworks, and Mature Content
Pokeluver223, the creator of Skiploid, strongly requests that Skiploid a not be used for Roleplay by anyone unless given express permission. Fanworks such as art and stories are allowed, artworks that have Skiploid portrayed in adult situations (i.e. sexually, violently, ect.) are not allowed. Genderbends and "pitchbends" are not allowed
Commercial Use
Skiploid is a free program and therefore can NOT be purchased or sold. Similarly, absolutely no item featuring Skiploid (i.e. art, music, fanart, ect.) can be sold without the express permission of his creator Pokeluver223.
Some details are based on existing information and usage experience. The details seen here may be subject to change without prior notice.
Gallery