Silvara Aerana


No Japanese name equivalent

Formerly Silvarathalasa Aerana.

NAME INTERPRETATION:
The name Silvara ideally reflects the word "silver" while Aerana is derived from "aera" meaning wind/air. Hence, her name roughly means Silver wind.

TYPE: Utauloid [CV voicebank]
MODEL: n/a
GENDER
Female
VOICE RANGE

A2-C5 [Ideally]
Depends on the song

RELATED CHARACTERS

None atm

AGE
19
GENRE
Ballads


Most genres

HOMEPAGE
n/a
WEIGHT
xx
CHARACTER ITEM
Headphones
CREATOR

shadowknightpaladin

HEIGHT / MEASUREMENTS
5'4
VOICE SOURCE
shadowknightpaladin
PICTURE LINK LIST
Official Art
BIRTHDAY
May 3
LIKES
Drawing, peaceful quiet places, food with a certain amount of spice.
MEDIA LIST
Youtube

RELEASE DATE
April 6
DISLIKES
Humid weather, sour food, spiders.
SIGNATURE SONG
Gigantic OTN feat male! Silver/Sylfen
PERSONALITY:


Silvara at first glance is thought to be an introvert who absorbs herself in music and a sketchbook. In reality, she just doesn't know how to approach people. Once you do start talking to her [or she approach you], she is rather chatty. She like musing about even the small thing- allowing it to become a conversation. She does have a sarcastic tongue every now and then.

She looks gullible but oh how wrong you are. She has a mind that can quickly catch on to green joke. She might not let you know at first but give her the chance to speak and she'll keep up with you men.
Character Design
Hair color: Short black hair in an inverted U cut.
Eye color: Bright green
Shirt: White and green midriff jacket that has sleeves end above the elbow. Buckles ans straps secure the green collar of the jacket and the ends of the sleeves. The jackets has a tail coat the reaches above the knee.
Hands: Left hand sports a black gloves and a translucent green bracelet.
Pants: White pants witht he right side folded to mid-thigh which is secured by 3 buckles.Her pants has green accents as belt holders.
Feet: Knee-high light grey boots with buckles and a string anklet.
Other: Headphones can be worn horizontally [across the back of the head] or vertically [normal way]
Nationality: Filipino

Voice Configuration
Silver's voice uses the standard flags.
Her genderbend [used in the cover of Sun] can be achieved with a g+15 to g+20 depending on the song.
Download and Updates
Download
Her voicebank is currently in CV.
Most japanese syllables are included and 3 breath settings. Some japanese syllables are romaji-nized differently so please check the voice list.
She is capable of HIRAGANA and ROMAJI.

Updates Updated oto.ini.
Fixed "a" and "go" pronounciation.
Updated picture.
Fixed romaji for "kyo" and "ie"
Update.2
Edited OTO for vowels
Download Updates:
http://www.4shared.com/rar/kI1s7Q72/Silvara_Aerana_update_2.html
A filipino voicebank is currently in the works. [Currently on hold due to loss of mic
RERECORDING JAPANESE VOICEBANK
May add an english VB later on
May add a VCV VB later on as well

Extra
>shadowknightpaladin DOES rp [role-play] with Silvara so feel free to note her on dA!!
>That being said, 2 alternate RP versions also exist so don't be surprised.
>Her headphones can also be just resting around her neck

Usage Clause
>When using any art from shadowknightpaladin, please credit or link back :)
>Feel free to use Silvara just don't reupload her voicebank or design anywhere else
>Feel free to note me on dA or on tumblr when you use Silver. I'd love to hear it! Also contact me there for any questions or problems and I'll get to you right away!
>Feel free to alter her design to suit the song!

Notes
>> First released as Silvarathalasa Aerana
>> Formally shortened to Silvara Aerana on April 03, 2014 >>Please don't add extra details without asking me first! ouo
>>Silvara's oto is now updated but help is still very much wanted...please

Concept ART
> All art is available at shadowknightpaladin.deviantart.com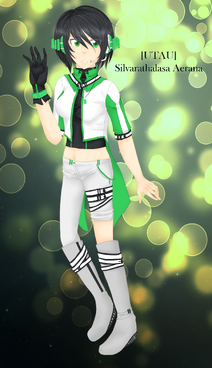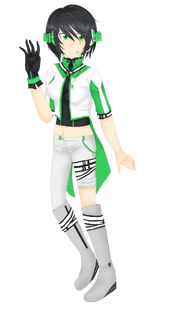 >Clear BG

References will be added later on.

Community content is available under
CC-BY-SA
unless otherwise noted.