SILLY


(Japanese: たわいない - Taiwainai)

NAME INTERPRETATION:
Named Silly cause of her voicebank.
TYPE: FAIL UTAU - A UTAU that didn't turn out as wanted.
MODEL: L337
GENDER
Female
VOICE RANGE
UNKOWN
RELATED CHARACTERS

Wicked (Twin Brother, male counterpart by pitch manipulation, -20%)

Momo Momone (Her Idol)

AGE

1.5 (Cyborg years)

18 (Design age)

GENRE
Horror and Avant Garde
HOMEPAGE
UNKOWN
WEIGHT
165 lbs

(74.8 kg)

CHARACTER ITEM
A broken memory disk.
CREATOR
Moa The Oreo Queen
HEIGHT / MEASUREMENTS
52' ft

(158 cm)

VOICE SOURCE
UNKOWN

(Voice Provider doesn't want any info about her published)

PICTURE LINK LIST
N/A
BIRTHDAY
June 26th, 2013
LIKES

Sing, Pillows, Give hugs, Have someone to talk to

Momo Momone (Silly adores her alot)

MEDIA LIST
RELEASE DATE
March 25th, 2014
DISLIKES

The ones that abonded her and her twin brother (They abonded them cause they broke)

Sour stuff, Betrayers

Diva's (She doesn't want to be one eather)

SIGNATURE SONG
COMING SOON...
PERSONALITY: Silly is a really nice girl that likes hanging out with other UTAU's, but she doesn't have many friends due to her voice being too robotic and broken which eather scares or annoys the others, but she likes to be with her twin brother Wicked that have the same problem. Silly can get really mad but after she have been mad for a while she starts to break down into depression. As her name describes she is also really silly, she laughes at every joke and sometimes uncontrollably. She loves singing in duets and chores.
Supplemental Information
Hair: Orange, goes all the way down below her hips and curly at parts, two pigstails in her hair.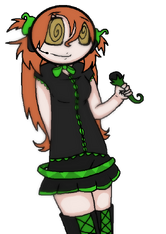 Headgear: Hairbraids.
Eye colour: Yellow
Earphones: Black and small, is mostly covered by her hair but her mick is visible.
Dress: Dark gray outfit with green trimmings and highlights. Her side chain is fastened inside her skirt.
Nationality/Race: Cyborg Favorite phrase: Ha Ha Ho Ha Ha
Voice Configuration
Some of Silly's vocals doesn't sound like wanted, but her voicebank is written in both Romaji and Kanji depends on which one you download.
Silly doesn't have a soft, strong or whisper bank yet but it will come in the future.
There need's professional skills to be able to make Silly sound good in any way, but her robotic voice makes her more special
Songs/Covers
NONE YET
Downloads

Silly's voicebank is only for private use until i release it fully!
Normal Romaji: -
Normal Kanji: -
Act information
Silly may have a Act 2, but Act 1 will stay for a while.
 The information seen here is based on data provided by the author. The details seen here may be subject to change without prior notice.
Community content is available under
CC-BY-SA
unless otherwise noted.