Shou Kurone


(Japanese: 黒音翔 - くろねしょう - Kurone Shou)

NAME INTERPRETATION:

黒音 (Kurone; Black Sound)
翔 (Shou; Soar, Fly)

alias name : kurouji (wordplay for kuro ouji.)

TYPE: UTAULOID

MODEL: KR-01 (Imprinted on his left headset.)

GENDER
Male
VOICE RANGE

C3~C5

RELATED CHARACTERS

e-CH0
(Adopted Little Brother)

AGE

19(official age)

GENRE
Any
HOMEPAGE
WEIGHT
65 kg
CHARACTER ITEM
Snakes
CREATOR

Suzuaki (sakurasou23)

HEIGHT / MEASUREMENTS
179 cm
VOICE SOURCE
Suzuya
REFERENCES
Design
BIRTHDAY
Dec 1
LIKES
Chocolate
MEDIA LIST
YT | SC
RELEASE DATE
14 Feb 2013
DISLIKES
Cats
SIGNATURE SONG
誰も知らないハッピーエンド
PERSONALITY:The creator really have no idea what to put in here. Snakes.
Character Design
For MMD Model nerds (me included) download
There's two models so far; which used TDA and KIO base.
Hair color: Blonde on the front and Black on the back of his hair
Eye color: Yellow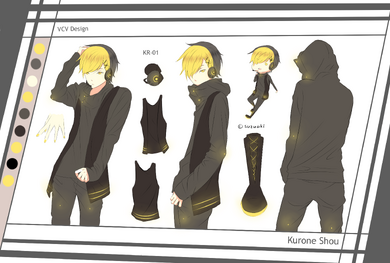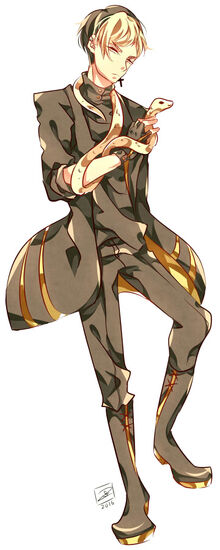 Voice Configuration
Shou's voice is by default, encoded in Romaji + Hiragana aliases.
VCV v2 + CV Aliases download (most reccomended, please add g+10 flag when using)
VCV download(Old and not really easy to use, not reccomended unless you're a masochist.) old vcv oto ini download
Genderbend
Chou Shirone (please add Y0B0H20C99F1g-15 on Shou's original bank to get her voice.)
Extra Character Relation
- Junko (like a little sister, cares a lot about her.)
- KAI KIM (Friends forever)
- Ui Mochion (best friend.)
- Hachi Makune (parters-in-crime)
Trivia
- Snakes.
Usage Clause
Do not change any appearances that already be given out unless there is changes that have been made by the creator.
Please do not pitch the voicebank.
Allowed to be used freely, but not for commercial use.
Do not steal the character / voicebank.
Do not violate any rights or copyright policies using this character.
Please don't edit this page without Suzu's permission. Thank you.
Community content is available under
CC-BY-SA
unless otherwise noted.