Shinichi Migine

(Japanese: 右ね 新一 - Migine Shinichi)


NAME INTERPRETATION:
Shinichi - "gentleman, one" (describe about her 'masculine' attitude)

Migine - right sound

Um, his full name means... "the gentlemen of right sound"

TYPE: Ani-loid

Mode : NS-13

GENDER
Hermaphrodite (40% female, 60% male)
VOICE RANGE
G#2 - B3
RELATED CHARACTERS

Haruka Kuchiki (friend)

Mizuki Kurosaki (friend/half sibling)

Shinichi Izumi (Migine's male-side alias name)

AGE
15
GENRE
?
HOMEPAGE
RM-Mizuki
WEIGHT
around 40 kg

CHARACTER ITEM

Fan
CREATOR
Mizuki Migine
HEIGHT
170 cm
VOICE SOURCE

Kyu

PICTURE LINK LIST
DeviantArt
BIRTHDAY
October 9
LIKES
Reading books.
MEDIA LIST
Soundcloud
RELEASE DATE
TBA
DISLIKES
Monster or Ghost
SIGNATURE SONG
Ai Dee

PERSONALITY: Migine is a person who likes reading books and her curiosity are most bigger than anyone does thinking. Migine is a 75% human and 25% ???. Her most best trait are her/his voice are changed depends changing her/his appearance.
Character Design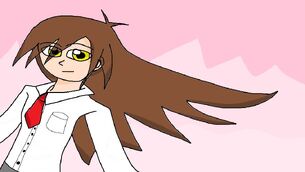 Name: Shinichi Migine
Age: 15
Gender: Hermaphrodite (40% female, 60% male)
Height: 170 cm
Weight: around 40 kg
Hair and Eye Color: Brown / Dark Brown
Character Design and Art by Mizuki-chan93
Voicebank
Currently Shinichi Migine FIRE are on-progress, during Haruka's VCV making, Shinichi's concept are changes:
His male are more dominant so, only had male-voice as his main-voice.
Shinichi didn't make into ACT series like others.
His voice-provider, is also a fellow fandubber, like the creator itself.
He supports Japanese Hiragana and Romaji CV only for the moment.
You can find his voicebank in homepage on UTAUloids section.
Voice Configuration
Shinichi's recommended flags : BRE0B0Y0C99H10g+3
Recommended resampler : default resampler
Notes:
This article has been written by the author of the character. Please do not edit.
Several notes from author:
- Don't edit the information or copy her voicebank.
- Allowed to be use freely, but NOT for sale/commercial.
- Don't use her for roleplay, unless get permission from the author.
Trivia
- Its the first time, author making a hermaphrodite Utauloid despite describes as a male by herself.
- Shinichi Migine's nickname is Migi.
- Along with Yugi Kagene, he's the another one from author's Utauloids who had "ne (sound)" on her name.
- He had dual-personality which can changes unexpectly without been notice by others.
- Like all author's Utauloids, her name are loosely inspired from anime which this time from one of new anime in Fall 2014, Kiseijuu : Sei no Kakuritsu or more known as Parasyte -the maxim-.