HITO SHINE

(Japanese Name 死音ひと - しねひと- Shine Hito) 

NAME INTERPRETATION: 死音 (Shine):music/ sound of death

It actuall pronunciation is supposed to be Shion but she like "Shine" better because it is the same pronunciation as 死ね(go to die)

ひと (Hito): the same pronunciation as human

TYPE: Utauloid

MODEL: X

GENDER
Female
VOICE RANGE

C3~C6

RELATED CHARACTERS

Shine Hitomi (Genderblend)

Shion Yoru (Little Brother)

Takeshine Hikaru

(Friend)

PERSONATILY TYPE

Yandere

Masochism

AFRAID OF

Her brother leaving her

SEXUALITY

Straight (heterosexual)

AGE
19
GENRE
Grotesque 
WEBSITE
N/A
WEIGHT

59 KG

CHARACTER ITEM
Belt
CREATOR

Oniyome Haruki

HEIGHT

171 cm

VOICE SOURCE
Oniyome Haruki
PICTURE LINK LIST

TBA

BIRTHDAY
April 13
LIKES

Weapons, Panda,

Big Brother (Kaito)

MEDIA LIST
RELEASE DATE
March 19, 2014
DISLIKES
Overly Protective People
SIGNATURE SONG
PERSONALITY: Unlike other yandere characters, Hito Shine torture herselfor enjoyment. She likes the feeling of pain and do not understand why people dislike it. She tried to make others understand (which means torture them), but they never did. She has the power of healing herself after any kind of wounds and can grow new body parts if the old part is amputated, which is why she is still alive. She want her little brother to help her with the process although he ignores her every time. She thought that if she has a big brother he will treat her the way she wanted to be treated. Hito Shine is looking for a master who can kill her differently everyday.
Supplemental Information
Hair colour:
White with black streaks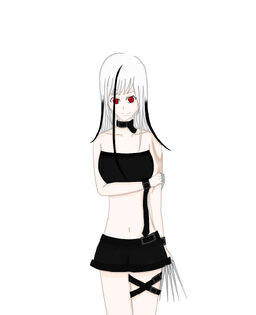 Eye colour: Red
Headgear: None
Weapon: Iron blades on her finger
Accessories: Belts on both arms, two belt on left leg, and one around neck
Nationality: Japanesse but lives in China
Catchphrase: I want a big brother!~
Videos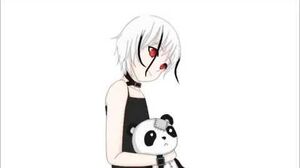 Usage Clause
It is fine to use and spread as long as you state the character's name.
Contact the owner for permission if you want to modify or edit the voicebank (genderblend is fine with the name of Hitomi Shine). Permission is not needed for doujin (I would be really happy if you give me a copy although not necessary).
Things below are prohibited:
Use her for strong politic and religious expressions
Sexual (NC-17) expression, grotesque and/or violent expression are not limited.
The creator shall not hold any responsibility to incidents and losses when using the voicebank and/or the character Hito Shine.
Voicebank
Beta:
Community content is available under
CC-BY-SA
unless otherwise noted.