Seria Mitsuki


(Japanese:'セリア'ミツキ-Mitsuki Seria )

NAME INTERPRETATION:
ミツキ (Mitsuki-Means three months/full moon/beautiful moon.

セリア(Seria-Doesn't mean anything.

TYPE: UTAUloid
MODEL: EX001 written on her name tag
GENDER
Half Female and Half Tomboy
VOICE RANGE
G#3-D5
RELATED CHARACTERS

Sergio Mitsuki (crush/duet partner)

Seira Mitsuki (sister)

Aino Kaori (friend)

Teto Kasane (friend)

AGE
16
GENRE
Any(exept Classical)
HOMEPAGE
NONE
WEIGHT
UNKNOWN
CHARACTER ITEM
Candy Cane,Glasses
CREATOR

Hadaka-Mitaku DeviantArt

Plushy Dena You Tube

HEIGHT
5'9" feet (166 cm)
VOICE SOURCE
Hadaka-Mitaku
PICTURE LINK LIST
DEVIANT ART
BIRTHDAY
November 14
LIKES
Candy Cane,Sergio,Color Red,Halloween'nie Songs.
MEDIA LIST
YOUTUBE
RELEASE DATE
November 10, 2013
DISLIKES
Being called 'Nerd',Classical Songs,Romantic Movies.
SIGNATURE SONG
None
PERSONALITY:She's nice and kind but sometimes she gets mad,When someone calls her 'Nerd' she imediantly puts on her glasses and acts all mad.When she see's Sergio she acts all nervous.When she hear some classical music she puts her glasses imediantly and acts all mad.If someone bullying her,She fights back.
Supplemental Information
Hair color: Black
Headgear: None
Eye color: Emerald Green
Earphones: Black & Red with Sound Flows
Dress:Original Design
Nationality/Race: Filipino/Japanese
Favorite Phrase:"You don't like me when your calling me nerd,Stop calling me nerd muahahaha"
Voicebank
Seria's voice bank is default.Already encoded in Romaji and Hiragana,but only support japanese language and available for CV.Act 1 is only available.Act 2 is in progress
Act 1-oto.ini fix-=Download Mitsuki Seria Act.1
Original Design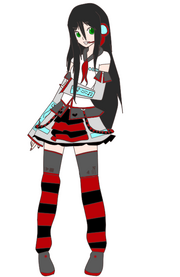 She likes all styles that are cute and stylish,Like her last design.This is similar to her last design.
Trivia
She likes Halloween-nie Songs,because she listens to songs like those,Her favorite one is Black Cats of the Eve.

【UTAUカバー】Black Cats of the Eve【Mitsuki Sergio-Mitsuki Seria】

She never tells that she likes somebody,She just speaks in her mind sometimes.
Seria and Sergio never knew that they were twins,beacuse of there mom and dad they split apart.
Seria loves to sing with Sergio if it's a duet.
Usage Clause
Please do not take credits in the character.
Can use it any UST's(she doesn't like classical ones).
If your using her Voicebank,Credit me.
You can make any cover if your using her.
Community content is available under
CC-BY-SA
unless otherwise noted.