Sakura Tsukine

(月音 サクラ - Tsukine Sakura)

ALIAS: Sakunee-san - Chibi Aku calls her this.

NAME INTERPRETATION: 月音 (Tsukine; Moon' Sound) A gentle name, reflecting both her personality and silver hair

サクラ(Sakura; Cherry Blossom)

TYPE: UTAUloid

MODEL: +40 - located on her left shoulder, beneath her sakura tattoo

GENDER
Female
RANGE

UNKNOWN

RELATED CHARACTERS

Sora Suiga (In love with)

Chibi Aku (Younger sister)

MIzazuki Iwate (Friend)

Nana Akineko (Friend)

Hyouko Riuta (Friend)

Al (Friend)

Hana Kiramekine (Friend)

Sakuro Tsukine (Twin brother/genderbend)

AGE

18

GENRE
Any
HOMEPAGE
UNDER CONSTRUCTION
WEIGHT
130 lbs
CHARACTER ITEM

Fan

Cherries

CREATOR
Jpegurl
HEIGHT / MEASUREMENTS

5'6

VOICE SOURCE
Jpegurl
PICTURE LINK LIST
DeviantART
BIRTHDAY
February 7th
LIKES
Cherry blossom trees, cooking, playing the flute, martial arts, ninjas, drawing, Suiga Sora, rabbits
MEDIA LIST
RELEASE DATE
February 7, 2012
DISLIKES

Dogs, folding beach chairs, hot days, spicy foods, bad tasting tea, people who underestimate her

SIGNATURE SONG
Yasashii Uta no Sakura (Gentle Song of the Sakura) [WIP]

PERSONALITY: Despite her open and cheerful personality, she is quite the pessimist and very emotional. She loves making new friends. Has a few cat like tendencies. Is a bit of a closet otaku. Blushes whenever someone says she's in love. Loves to hang out with her friends and little sister. If she's provoked enough she will become quite dangerous and aggresive, and won't hesitate to beat you up! She's highly skilled in martial arts. If anyone mentions her being in love or someone loving her she gets visibly flustered, especially if it concerns Sora.
Supplemental Information
Hair color:
Silver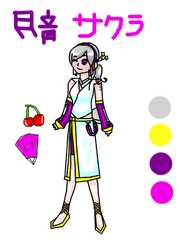 Eye color: Violet
Top Wear: Short sleeved, white 'kimono-esque' shirt; Sakura tattoo on her left shoulder. Two purple arm warmers with a moon crest on the right and diamond one on the left and pink streaks.
Bottom wear: short white slitted skirt with pink shorts. Yellow slippers. Pink and purple belt clip.
Headgear: Two round pink and purple headphones with yellow illumination and two gold stars on the left
Nationality/Race
: Japanese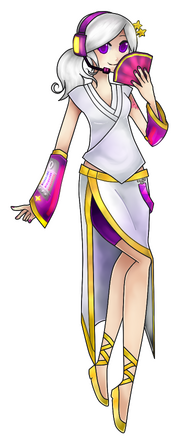 Catchphrase: Calm as the water, bright as the moon, cheerful as the cherry blossom~
Extra Information:
To get Chibi Aku set Sakura's flags to g -20
Voice Configuration
Sakura is configured for both Romaji and Hiragana, but supports only Japanese. Her ACT1 is no longer availible for public download. However, her ACT2 is
ACT2 Voicebank: http://www.4shared.com/zip/mBKpDLtS/Tsukine_Sakura_ACT2.html
She also has a Sweet Append, which is Romaji with Hiragana aliases/
http://www.4shared.com/zip/bNZhzoW3/Tsukine_Sakura_Sweet_Append.html