First Name: Saku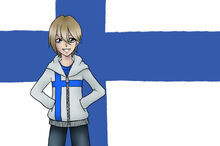 Last Name: Lehmus (Means Linden in English)
Nationality: Finnish
Age: 10
Height: 137 cm
Gender: Male
Personality:Cheerful, hyperactive, unmature, a bit rude and annoying sometimes, honest, stubborn, a little bit too confident about himself.
Relationships: Cousin of Shiki Kio and Shiki Sakuya (but not related to Shiki Momoka)
Character item: Ruispalat (Finnish rye bread)
Dislikes: Mämmi
Birthday: July 29, 2015
Voicer: Kiosa
Playlist: https://www.youtube.com/playlist?list=PLLmulrBLpdCahaXBXJOsdLUbb-YoMYGh2
Voicebank
Download: http://www.mediafire.com/download/llh2uhohaah2q1b/Saku+Lehmus.zip (Oto by Pupuomena )
Trivia
Saku is a nickname my sister gave me. And my last name is "Lindh" that means "Lehmus" in Finnish (and in English it's Linden or something...?)
Community content is available under
CC-BY-SA
unless otherwise noted.