SAANE

(Japanese: サア音 - さあね - Saane)

NAME INTERPRETATION:
サア音(Saane; Sounds of Now)

TYPE: UTAULOID (RimoConloid too)

MODEL: MN'013' - Number 013 was her born. And MN meaning Mono. Imprinted at her bluetooth Headsets (hard to be seen).

GENDER
Female
VOICE RANGE
F4~A5
RELATED CHARACTERS

Shoune (Best friends; male counterpart by pitch manipulation)

AGE

15' -This Year- (official age, but many people think her age is 13 y.o)

GENRE
Any
HOMEPAGE

Coming Soon

WEIGHT
47 kg
CHARACTER ITEM
Sakura flower
CREATOR
黒と健

(Kuroto Ken) 

HEIGHT / MEASUREMENTS
161 cm
VOICE SOURCE

黒と健

 (Kuroto Ken / Ken)

PICTURE LINK LIST
BIRTHDAY
August 13, 1997
LIKES
sweets, cute things, singing, drawing, playing, Laptop, Sakura Flower, Milkshake, Milk, Chocolate etc.
MEDIA LIST
Nico Nico Douga,Youtube, Soundcloud
RELEASE DATE
July 04, 2012
DISLIKES
Being called tall, annoying people, bullying, being compared with others, Bugs, etc.
SIGNATURE SONG
Demo CV Core ACT 1 | E-scape
PERSONALITY: She can described as a "plain" girl but she's childish and sometimes can be a mature girl. She's very love her friends, and her best friends, Waiko and Ui.
Character Design
Hair color: Blonde Hair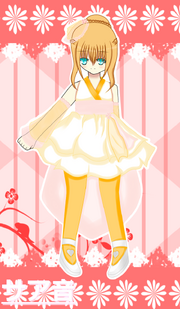 Eye color: Aqua colour
Dress: -Main Dress- Soft Yellow Cream
Earphones: Bluetooth headsets
Nationality: Japanese
Original Design by Creator and 7mint-and-choc
Fav Quote : Hng?
Voice Configuration
APPEND:
Append Dark Orange (Mature with Little Power voice)
Append Dark Soft Orange (Mature with Little Soft voice)
NEXT:
VCV Voicebank (progress)
VCV Lite Beta Voicebank (99%)
The only language that Saane currently supports is Japanese. Her CV voicebank is encoded in hiragana with romaji aliases. Not as Romaji with Hiragana (except her Dark Orange CV)
MMD
There's a MMD of Saane (TDA type) Click [http:// http:// http://aviusverse.deviantart.com/art/Saane-Commish-409755403 Here] to Download it
Facts
Her Born day same with her Creator
She can described as a "Plain" girl.
She's very love Sakura Flower 
Hard to Socialize.

Shoune's male counterpart by pitch manipulation (Add g+13 on her voicebank -Dark Orage/Soft orange-)

Her Voice From The Author and not use pitch
All person of RimoConLoid is Her Adopted as her Family.
Usage Clause
1. Do not redistribute. Please use the download link made by the creator to download her.
2. Do not claim ownership of this character and her voicebank.
3. Do not create songs in any way that include any slander, racism, or anything that infringes the rights of a person or group of people.
4. Do not violate any rights or copyright policies using this character.
5. She is not for commerical use. Please contact the creator if you wish to do so.
6. Please DO NOT Steal her voicebank or Her Character.
7. You Can Fix her oto.ini
8. Add Y0H0F100BRE0 if you want to use a flag. Saane sounds great with the flag.
9. DO NOT CHANGE THIS PAGE. Except you tell the author first.
This article is written and certified true and correct by the author of the character. The details seen here may be subject to change without prior notice.
Extra Character Relation
-Fellow RIMOCONLOID -
---------------------------------------------------------------------------