SHiiRO

( Japanese - しいろ - lit. Shiiro )

NAME INTERPRETATION:
しいろ ( SHiiRO ; white in Japanese ) - derived from his white hair colour. Added two 'i's in his name as a sign he's created by Kaii, in which her name has two 'i's too.

TYPE: UTAUloid
MODEL: S-02

GENDER
Male
VOICE RANGE

(Estimate)

G#2 ~ G#5

RELATED CHARACTERS

Shizune Midori '( close friend )

AGE
17
GENRE
Varied
HOMEPAGE
-
WEIGHT
62.6 kg
CHARACTER ITEM
His Headphone
CREATOR

Shizumii-Kaii

HEIGHT / MEASUREMENTS

182.88 cm '( 6'1" ft )'

VOICE SOURCE
Shizumii-Kaii
PICTURE LINK LIST
DeviantART
BIRTHDAY
25th December
LIKES
Sushi and Rice-cakes
MEDIA LIST
RELEASE DATE
20th August
DISLIKES
Annoying People
SIGNATURE SONG
-

PERSONALITY: A quiet type of guy which can be seen as cold and harsh by many, but in reality he's a calm and gentleman like type of person. He likes animals, mostly Shih-Tzu dogs and other cute looking animals but he hides it most of the time. When it comes to relationships and romance, he's a Dandere.
Character Design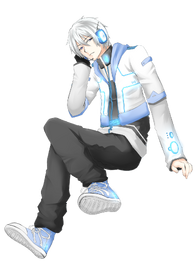 Hair color: White
Eye color: Blue-Violet
Headphones: Dark Blue - Light Blue. The Light Blue part of the headphone is actually a CD being played. When the middle part of the headphone is pressed, the CD ejects and can be replaced with another. It lights up blue when the CD is playing.
Clothing: Blue-Black-Gray-White themed clothing. Refer to the picture to the right.
Nationality: Filipino-Japanese
Voice Configuration
ACT 1  is a  CV Voicebank composing of 136 samples that is encoded in Romaji with Hiragana aliases. His default voice range is G#2-G#5 (not yet exact), in which the voices can be altered to a more feminine voice or masculine voice by just altering his voice range to a more feminine range; estimated which is C4-C6.
ACT 2 may be released within 2014, however not yet clear due to the lack of recording materials. Appends too.
SHiiRO voices best in the flags using y0g+10, while his genderbent SHiiROi in the flags of y0g-5.
Newcomer song: Cyber Thunder Cider
Release song: Black Board
Usage Clause
> Do not claim him as yours. Always give credits whenever using him.
> Do not edit, redistribute or alter his voicebank.
> Use him only for fun and not for commercial use.
Community content is available under
CC-BY-SA
unless otherwise noted.