SHIN, code number: DV01. The first Japanese UTAULOID created by user DIVON on the UTAU voice synthesizer on April 16, 2016 in CV format.
It is currently under development and has no ready-to-use voice libraries.
Only the UTAU voice engine will be supported, but in the future it is also possible to migrate to third-party free voice synthesizers.
Design
Оriginally had a black and red version of the design, but the design has since been updated and replaced by a "more comfortable and accurate" one. The top part of the garment was changed. The black and red vest was changed to a black thick jacket with a hood and fur on it. The jacket also completely lacks sleeves. The sleeves have been replaced with sleeves and gloves have been added.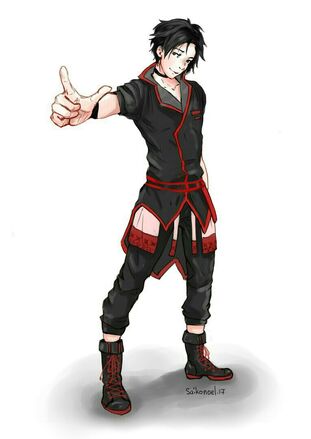 SHIN does not have a clear character, but the creator strongly recommends that some limits of canon be observed: for example, I would be wrong to portray him as funny or smiling, unless smiling is a sign of something unkind. SHIN is always portrayed as a cold-blooded unemotional guy who prefers dark and dim colors in his attire. It would be correct to portray him as crazy, scary or frightening, neutral.

SHIN has medium-length black hair, and it tends to stick out in different directions. It is wrong to portray hair as "manageable", the more it develops the better, the eyes match the color of the hair. SHIN's distinctive feature is the bracelet tattoo on his neck, it is absolutely identical to the one he wears on his forearm as his numbering. very often this tattoo is depicted as a choker, which is not correct. The current version of the design has the option of both buttoned and unbuttoned jackets. SHIN prefers not to button up, but he can sometimes throw a hood over his head. The wristbands the guy wears have displays and sensors that can display many of his voice settings, tempo, type and others, but most often they are not displayed as he likes to have them completely off. The pendant attached to the jacket has similar visual functions.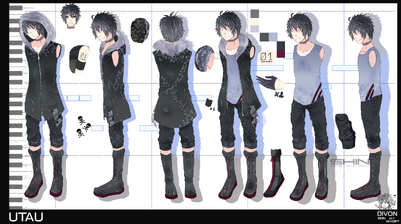 Etymology
When SHIN was first recorded, he bore a different name that did not fit his image or his design. After a series of updates, it was decided to accept his current name. The name SHIN is abbreviated as "Shinji", which means "death". The surname Murakami was taken from a famous Japanese writer, whose last name accidentally fell into the hands of the creator and in the sound with the name began to complement it.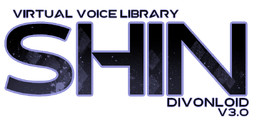 Officially does not have a surname. The surname "Murakami" is a distinctive fact by which a character can be found and distinguished from others.
Note that his first name is spelled "SHIN" and has no variation on the spelling "Shin". This is also used in the variant of spelling his first and last name together: "SHIN 村上".
Audition links