KEMONONE ROU


(Japanese:  獣音ロウ - Rou Kemonone )

ALIAS: けものねろう (Kemonone Rou)

NAME INTERPRETATION:
獣音 (Beast Sound) 
ロウ (Row)

TYPE: UTAU獣人 

MODEL: 

GENDER
Male
VOICE RANGE
A2-A#5
RELATED CHARACTERS
Shiki Taigen
AGE
14
GENRE
HOMEPAGE
Kemononerow
WEIGHT
(54 kg)
CHARACTER ITEM
Potato
CREATOR
ユウマ@ゲッタンマスターP.pmx
HEIGHT
(159 cm)
VOICE SOURCE
Kemononerow Utau
PICTURE LINK LIST
PIXIV
BIRTHDAY
UNKNOWN
LIKES
Potato
MEDIA LIST
Nico Nico Douga 
RELEASE DATE
UNKNOWN
DISLIKES
Vegetables other than potato
SIGNATURE SONG
Row's Pain
PERSONALITY: 
Supplemental Information
Was built up on the basis of the voice "before we could say Jack Robinson" plays, Werewolf singer "

Kemononero

" is the sound of UTAU library. By the 8 types of Sound sources,"Kemonone Row" will sings the song of a wide range of genres.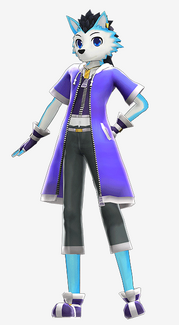 ==Voice Configuration==
For example, when it is uttered speech connecting the two sounds "red" and (aka), instead of using the audio information of a single note each "red" "a" and (a) "or" (ka) (a- By using the speech elements that are connected with ka), VCV rules that waveform editing and the synthesis unit can be sung smoothly reduces the unnatural sounding synthetic speech has (vowels, consonants, vowels) VCV is a speech synthesis system. 
Usage Clause
l data to be distributed on this site has adopted the following Creative Commons license. 
獣音ロウ ( Kemononero ) byユウマ@ゲッダンマスターP ( yuma ) is licensed under a Creative Commons 表示 – 非営利 3.0 非移植 License. From the point of view of want to regional contribution of the local Kemononerow, available at no charge will be possible to consent after With regard to the Company of the Northeast. For more information, please contact us.