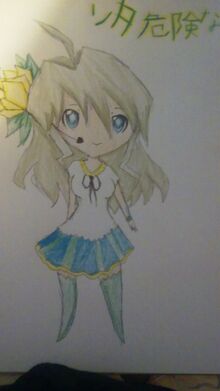 Character Design(REVAMPED)
Headgear: Yellow Water Lily Crystal Headphone with Microphone(other headphone is hidden in hair)                                                              
Clothing: Frilly white shirt with yellow, blue, and green cheerleader skirt, yellow necktie, 2 green bracelets
Eye Color: Cerulean
Hair Color: Gold
Nationality/Race: Irish American
This has been confirmed by the Creator of this UTAU.
Voice Configuration
WARNING: HER VOICE HAS SIMILAR PROBLEMS TO SF-A2 MIKI, AND SHE PRONOUNCES "I" AS "AI", AND EVEN DOESN'T HAVE AN OTO.INI
Romaji Voicebank Download: http://www.mediafire.com/download/rdl236v9wqcscvc/Kiken%27na+Rita.zip
Chinese & Korean+ English Phonemes(ENGLISH BETA VER. 1.0):[1]
Hiragana + Romaji VB Download: Here
Usage Clause
THE FOLLOWING IS FORBIDDEN:
-18+ Art
THE FOLLOWING NEEDS PERMISSION:
-Derivatives
-Redesigns
-Shipping
-Being her in RP's
THE FOLLOWING IS PERMITTED, AND IS EVEN RECOMMENDED!
-Making a OTO.ini file for Rita Kiken'na
Community content is available under
CC-BY-SA
unless otherwise noted.