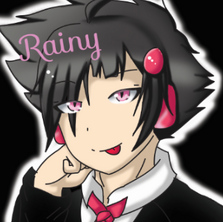 Name:
Rainy Hizami (らいにえ ひざみ)
Name Interpretation :-
Pronounced as "Rei-ni"
Type : VENOMloid
Model : AG-153
Gender
Male
Voice Range
 B2~A4
Related Characters

Nanamiya Zeke ( Partner )

Leneko ( Friend )

Reneko ( Friend )

more below

Age
19 y.o.
Genre

Unspecified (excluding anything related to sexual contents)

Homepage
V I R U S
Weight
47kg
Character Items
Round pink hairclip on the left
Creator
V I R U S
Height
176cm
Voice Source
Yoshiko Ren
Picture Link Lists
~
Birthday
5/12
Likes
Zeke , pink , Calamity
Media List
~
Release Date
29/8/2015
Dislikes
boredom , sarcasm things
Signature Songs
[coming soon]
Personalities: He loves to smile and laugh. He is normally very cheerful, especially when he is with his best buddies, Zeke and Kaguma. Though, he leans towards calm when he's in a silent place.
Supplemental Information
Hair : black
Eyes : Pink
Inner Shirt : Black
Hoodies: Pink
Head Gear : Pink headphone and hairclip
Pants : black
Shoes : Maroon
Nationality / Races : Malaysian-Japanese
Voice Configuration
Contains CV , supports romaji and hiragana
CV download :-
https://app.box.com/s/yxkzdjb2l2s35dqahm8uwww3uhca9ztd
newest version of the CV will be updated soon!
Related Character
Nanamiya Zeke ( Fellow VENOMloid - Partner )
Nanamiya Kaguma ( Fellow VENOMloid )
Naine Eito ( Fellow VENOMloid )
Toki Imo ( Fellow VENOMloid )
Leon ( Fellow VENOMloid )
Yarui Munegi ( Fellow VENOMloid )
Leneko ( Friend )
Reneko ( Friend )
Facts
He love to jokes (include dirty jokes too.)
Loyal and caring
Obedient and soft
Always cheerful
He loves animals
Usage Clause
NEVER claim that the character as yours.
ALLOWED to be used freely.
DO NOT do anything to damage the character's name or image.
Please CREDIT THE CREATOR for every usage.
Permission is encouraged. do ask me at Virus
Solos/Duets/Choruses are ALLOWED.
Permission to use him in Role Plays (RP) is COMPULSARY.
If one is caught breaking the rules,please REPORT to the creator IMMEDIATELY.
This article is written and certified true and correct by the author of the character V I R U S .Please DO NOT change anything here without his permission.
Gallery