ROUGE Birchfeild


(Japanese: ルージェ ベレチュフィルド)

NAME INTERPRETATION:


Rouge: From french, meaning "Red"                         


Birchfeild: Just a name. Only used in the silly fanfic story or when pretending to be human.

TYPE: UNDECIDED (Nigeloid?)
MODEL: 05
GENDER
Female
VOICE RANGE
C3- A#5
RELATED CHARACTERS

Hamu Oishiine (Friend)


Aria Maggiore (Friend)


Vert ("Brother")


BLEU ("Sister")


CAFE ("Brother")


VIOLETTE ("Sister")


GRIS ("Brother")

AGE

4 (It has been 4 years since her manufacture.)

Appearance: Teenaged. Perhaps 16?


Voice: Mid-mid late teens

GENRE

Best:


'Electronica,' Celtic or Folk

HOMEPAGE
http://projectrouge.blogspot.com/
WEIGHT

270 lbs (her heavy weight is due to the amount of heavy machinery in her.)

CHARACTER ITEM
NONE
CREATOR
Asparagus
HEIGHT
5'5" (165 cm)
VOICE SOURCE
Asaparagus
PICTURE LINK LIST

CONCEPT ART, BOX ART, GIANT REFERENCE CYBER/MILITARY PUNK REFERENCE  DEVIANT ART, GOOGLE IMAGE,

BIRTHDAY
October 20
LIKES
Music, Traveling, Friends and Nerdy Vampires
MEDIA LIST
RELEASE DATE
August 27, 2011
DISLIKES
Being inside all day, People who hurt the ones she loves
SIGNATURE SONG
A Song of Drums and Lost Memories

PERSONALITY: Rouge is a robot (more correctly, an android). She is often confused because she is new to being self-aware. She likes going to new places and meeting people, as well as talking to everyone she comes across. Since she is an android, she cannot eat and this often annoys her. One day she would like to travel around the world.
Supplemental Information
Hair color: Red
Headgear
: Her hair is made out of USB cables and the like.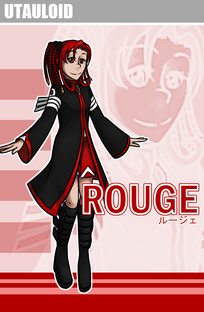 Eye color: Red
Earphones: Her ears are volume control dials. They have a secondary function in taking her out of sleep mode. They can also serve as a power button.
Dress: High neck long black coat with red trim and ridiculously long sleeves, red skirt, black strappy boots. Example
Nationality/Race: Android (In the silly fanfic, Japanadaamerican.)

Alternate Outfit (Used for Rock/More severe songs)
Hair color: Red
Headgear: Pig tails remain cables. She sports a military style cap with goggles, and a half face gas mask.
Eye color: Red
Earphones: Same as regular outft
Dress: Black corset-ish top, Bandages on left arm and around neck/top of chest, baggy cargo pants, military boots, red fishnet on right arm. Example
Nationality/Race: Android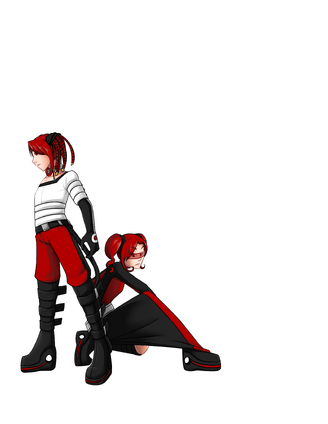 Voice Configuration

The following information is certified correct and true by the creator. The details seen here may be subject to change without prior notice.
English Voicebank: She has a strange accent which is slowly improving.
Japanese Voicebank: Hiragana and Romaji encoding.
Spanish Voicebank: She has some Spanish supplements and can sing in the language.
Voicebank link: http://projectrouge.blogspot.ca/p/rouge.html (includes most recent updates)
Append: There is an append currently in progress.
VCV: In progress. Recordings are old but useable.
Notes: Works best between C4-5, however can range from C3- (low)C6. Do not use the old resampler with her, she will sound terrible. Tests with the new resampler have yeilded mixed results. Fresamp usually works (You may want an F flag for it, though), however sometimes bkh01 works better on lower notes.
Song List (Reccomended Listening)
For a more complete list, please visit Here
Matryoshka (Improv Version) (Wtih Hamu Oishiine, Feat. Asparagus)
One Who Falls at the Name of God
Mrs. Pumpkin's Comical Dream (With CAFE)
Division -> Destruction of ProjectROUGE
Mozaik Role (Improv Ver.) (With CAFE)
Videos
Sorry for being a closet otaku (ROUGE, VERT and Masaki Kana)
Originals
A Song of Drums and Lost Memories
Space-Time's Usual Suspects (Chorus)
More Artwork
Community content is available under
CC-BY-SA
unless otherwise noted.