rAncrOw

(ランクロ rAnkurO)

NAME INTERPRETATION: rAncrOw is a mashup of the words "rambunctious crow ", the Homestuck character he was inspired by.

TYPE: 7loid - Pride

MODEL: HS-79

GENDER
Male
VOICE RANGE
C3~F#6
RELATED CHARACTERS

Redd Cylix

Δelta

Munair Harmonia

AGE
23
GENRE
Rock
HOMEPAGE
WEIGHT
90lbs
CHARACTER ITEM
Ridiculously Long Scarf
CREATOR
Illisandria Carthain
HEIGHT
4'13"
VOICE SOURCE
Illisandria Carthain
PICTURE LINK LIST
None
BIRTHDAY

December 17, 1999

LIKES
Caw, caw, also caw
MEDIA LIST
None
RELEASE DATE
2/7/2013
DISLIKES
Anything not caw
SIGNATURE SONG
サイテ

>AND WHAT ARE YOU LIKE?


Well that's pretty easy one for you to answer. You are loud and obnoxious, like all crows (and Morrigan-be-damned if you're not a fucking fine specimen of crow). Most people tell you that you have a fucking foul mouth but you normally tell them to shit that stick up their ass out and understand that you can swear as much as you damn well please. Also, you carry around this shitty bow you made yourself (along with the single arrow) and you are a fucking awful shot. That however, will not deter you from trying your hardest to be the next William Tell...or Robin Hood.
Supplemental Information
Hair Color: Ginger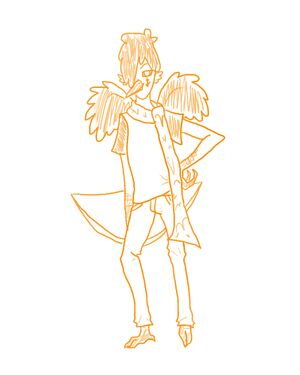 Eye Color: Black with red sclera
Outfit: You wear a Ridiculously Long Scarf that is blue with little flying crows all over it, along with a black V-neck tee, and skinny jeans.
Other: You have the mark of Saggitarius underneath your left eye. No, it is not a tattoo, it is something you were born with.
Nationality/Race: Crow-demon
Voice Configuration
You are designed for the Japanese language with romaji recorded, kana aliased phonemes. You are a joke bank produced by Illisandria Carthain cawing loudly into a microphone, but if someone wants to use you, they can find your ACT4.13 bank here . This is your only voicebank, now and in the future.
Usage Clause
==>
-People MAY NOT download you and redistribute you without permission
-People MAY NOT use you in any commercial works because a lot of the shit that came up with you belongs to one Andrew Hussie, creator and almighty overlord of all things Homestuck.
-People MAY NOT use you for any song/art/story that would bash anyone for anything, be it religion, sexual orientation, race, etc;
==>
-People MAY use you for any other type of song/art/story, provided Illisandria is given a link to it so she may treasure it.
-People MAY try to re-oto you if you feel the need. This may be foolish, however, since your voice is intended to be as odd as possible.
-People MAY create original songs using you.
Important Information
All information related or pertaining to Homestuck is copyright Andrew Hussie. This man owns most of the voice provider's soul.
Community content is available under
CC-BY-SA
unless otherwise noted.