Supplemental Information
Clothing: Black coat , white shirt with elephant picture , Brown short , red/brown shoes 
Nationality/Race: Thai / Human
VoiceBanks Edit
Act 1 (6 pitch CV with 3 extra pitch)
https://drive.google.com/open?id=0B4ARNM2BPvHnUmFGRHBodlpnZW8
Term of Use
* You can do Art, Music and Other Fanworks as long as the use is non-commercial.
* For Commercial content (This include any thing that creat for earnig money such as Music for your EP or album , Doujinshi , Keychain etc.) Permission is required. 
* Propaganda and Hate Speech work are FORBIDDEN
* R-18 / R-18G content are allowed.
* NL/GL/BL content are allowed.
* Derivative characters/voices are FORBIDDEN
Concept ART Edit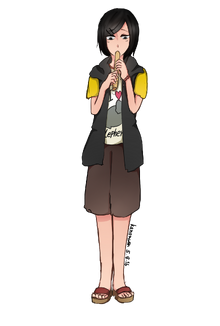 Community content is available under
CC-BY-SA
unless otherwise noted.