(Japanese: 朽木音お転婆 - くちきねおてんばおてんば - Kuchikine Otenba)

朽木音 (Kuchikine; Spunk Sound)

お転婆 (Otenba; Tomboy)

TYPE: SKSIDloid (SaKuSeIDerivative-loid)

MODEL: SKSIDl-02 (2nd SakuseiDerivative-loid)

GENDER
Male
VOICE RANGE

C4-C5

RELATED CHARACTERS

Kuchikine Anshoku (Uncle)

Kuchikine Shishunki (Uncle)

AGE
4
GENRE
Any
HOMEPAGE
http://sakusei-sha.blogspot.com/
WEIGHT
84 lbs (38.101 kg)
CHARACTER ITEM
Stuffed Animal (Cat)
CREATOR
Sakusei-Sha
HEIGHT / MEASUREMENTS
3'4" (101.6 cm)
VOICE SOURCE
Sakusei-Sha
PICTURE LINK LIST
Deviantart
BIRTHDAY
June 9th, 2010
LIKES
Friends, Family, Koneko
MEDIA LIST
RELEASE DATE
May 1st, 2014
DISLIKES
Mean People
SIGNATURE SONG
Higurashi Moratoriam(VCV Debut)
PERSONALITY: Otenba is the definition of innocence, he is a sweet child who loves to make friends, so long as they are nice to him and anyone he cares about.
Supplemental Information
Hair color: Dark Brown with Light Blue Tips
Headgear: None
Hairdo: Messy
Eye color: Amber
Earphones: None, prefers a regular microphone.
Dress: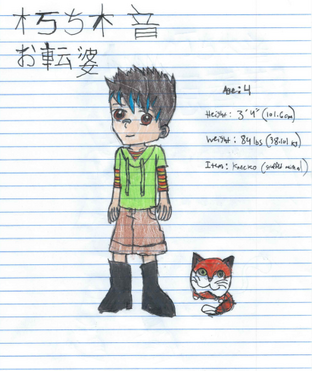 Nationality/Race: Japanese.
Catchphrase: 遊ぶ時間 (Play Time!)
Flag: g-50