Oroka Fukai


(Japanese: 愚か深い )

NAME INTERPRETATION:
愚か (Oroka) - stupid
深い (Fukai) - deep

TYPE: TRIOloid
MODEL: OF
GENDER
Male
VOICE RANGE
C#3~G#4
RELATED CHARACTERS
BELOW ON THIS PAGE
AGE
24
GENRE
Any
HOMEPAGE
Official website
WEIGHT
N/A
CHARACTER ITEM
Cookie dough
CREATOR
VaporwaveToons2002
HEIGHT
6'0"
VOICE SOURCE
VaporwaveToons2002
PICTURE LINK LIST
N/A
BIRTHDAY
February 8, 1995 (non-canon)


October 1st (canon)

LIKES
Cartoon Network shows, birds, chicken nuggets, K-pop, cookie dough, LEGO
MEDIA LIST
YOUTUBE
RELEASE DATE
April 8, 2019
DISLIKES
Spiders, sour candy, getting in trouble, horror movies, bullies, heights, applesauce
SIGNATURE SONG
None

PERSONALITY: Dim-witted, energetic, playful, happy-go-lucky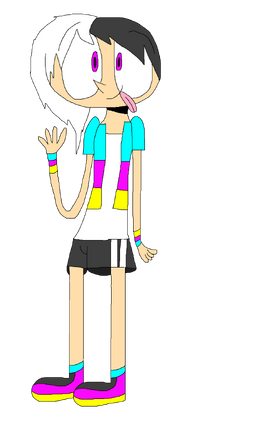 Supplemental Information
Hair color: White
Eye color: Magenta
Dress: Look at the concept art
Other: N/A
Nationality/Race: Japanese/American
Favorite phrase: "Duuuhhhh....pretty birdies!"
Related Characters
Fellow TRIOloid
Others
Nagi Fukai (younger sister)
Otona Fukai (younger sister)
Gallery
Facts/Trivia
He likes to watch some Cartoon Network shows.
Oroka has a really serious case of acrophobia (fear of heights).
Whenever Oroka sees a bird, he will joyfully cry "Birdie!".
Oroka's favorite K-pop girl group is BLACKPINK.
He's got a bunch of Cartoon Network merchandise (toys, books, albums, clothing, DVDs, VHS tapes…etc).
Oroka likes to eat Wendy's chicken nuggets.
He has been Orenji's best friend since they were toddlers.
Oroka has two siblings.
Oroka would rather eat those dinosaur chicken nuggets instead of the homemade plain chicken nuggets.
Despite being stupid, Oroka knows how to spell words and count numbers.
Oroka is straight ally and he supports the LGBTQ+ community.
Voice Configuration
Oroka will only have a CV voicebank.
Usage Clause
Please credit VaporwaveToons2002.
Do NOT edit Oroka's voicebank.
Do NOT edit this page.