Ocha Hikari


(Japanese: お茶光 )

NAME INTERPRETATION:
お茶 (Ocha) - tea
光 (Hikari) - light

TYPE: TRIOloid
MODEL: OH
GENDER
Male
VOICE RANGE
A#2~E4
RELATED CHARACTERS
BELOW ON THIS PAGE
AGE
17
GENRE
Any
HOMEPAGE
Official website
WEIGHT
N/A
CHARACTER ITEM
Teacup
CREATOR
VaporwaveToons2002
HEIGHT
4'5"
VOICE SOURCE
VaporwaveToons2002
PICTURE LINK LIST
N/A
BIRTHDAY
December 9, 2001
LIKES
Tea, weed brownies, dancing, singing, cross-dressing, aesthetic, having fun
MEDIA LIST
YOUTUBE
RELEASE DATE
December 9, 2018
DISLIKES
Spiders, horror movies, being mistakenly to be a girl, being alone, spicy foods, cinnamon challenge
SIGNATURE SONG
None

PERSONALITY: Optimistic, happy-go-lucky, cheerful, imaginative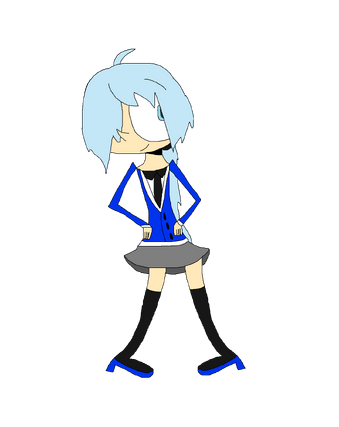 Supplemental Information
Hair color: Blue
Eye color: Blue
Dress: Look at the concept art
Other: N/A
Nationality/Race: Japanese/American
Favorite phrase: "Let's get creative!"
Related Characters
Fellow TRIOloid
Gallery 
Facts/Trivia
He is pansexual.
Everytime when Ocha eats a weed brownies, he will get really high.
Ocha has a really serious case of arachnophobia (fear of spider).

Michi uses a fake spider to prank him.

He likes to drink some tea (iced tea, bubble tea, green tea...etc).
Voice Sample
Voice Configuration
Ocha will only have a CV voicebank.
Usage Clause
Please credit VaporwaveToons2002.
Do NOT edit Ocha's voicebank.
Do NOT edit this page.