NOZOMI KITSUNE


(Japanese: 狐ノゾミ - Nozomi Kitsune)

NAME INTERPRETATION:
Kitsune: Japanese for 'Fox'
Nozomi: Japanese for 'Wish/Hope'

Name is meant to be 'Wishful Fox'

TYPE: N/A
MODEL: N/A
GENDER: 
Female
VOICE RANGE
CV: G3~F5

VCV: C#4~E6

RELATED CHARACTERS

(Cousin)

(Close Friend)

AGE
14
GENRE
Rock
HOMEPAGE
N/A
WEIGHT
90 lbs/ 6st 6lb
CHARACTER ITEM
Autumn Leaf
CREATOR
Pingu 
HEIGHT / MEASUREMENTS
166 cm
VOICE SOURCE
pingu (@PinguUTAU on YT)
PICTURE LINK LIST
N/A
BIRTHDAY
September 16th 2000
LIKES
Kitsune Udon, Cider.
MEDIA LIST
Youtube
RELEASE DATE
30th September 2014
DISLIKES
Coconut, Extreme weather.
SIGNATURE SONG
o light
PERSONALITY: Nozomi is a very loud and playful person and generally likes most people. She's outgoing and just a nice person.
Supplemental Information
Hair color: Blonde
Headgear: Bandage
Eye color: Dark Pink and Yellow
Headphones: N/A
Dress:  Orange-Yellow Ombre Dress.
Nationality/Race: 1/4 British and 3/4 Japanese
Favorite phrase: N/A
Voice Configuration
ACT 3 Download (More Smoother, fixed the 'o' vowel, improved oto, recommended resampler is default): http://www.mediafire.com/download/77l38cvm933ymwm/Nozomi+Kitsune+ACT+3.rar
MAIN VCV (VCV, Said to be much more powerful then other voicebanks, recommended resampler is Model4 or Resampler): http://www.mediafire.com/download/21s5t8t0d8ut44y/狐ノゾミ_~Nozomi_Kitsune~_VCV.rar
SHY Append (CVVC, Supposed to be a whisper bank in some way): http://www.mediafire.com/download/a7h11nixz82ry3p/%E7%8B%90%E3%83%8E%E3%82%BE%E3%83%9F+SHY.rar
WEREFOX (BETA) Append (2 Pitch Kire VCV, has some frq bugs, easy to use bank): http://www.mediafire.com/download/8lyvd8m2dlrr4bc/%E7%8B%90%E3%83%8E%E3%82%BE%E3%83%9F+WEREFOX%CE%B2.rar
BLAZE Append: Coming Soon
Usage Clause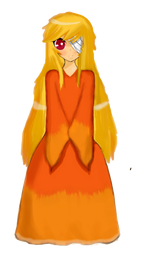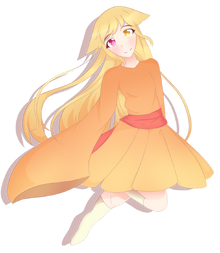 Community content is available under
CC-BY-SA
unless otherwise noted.