Hazumazu


(Japanese: ハズマズ / はずまず - Hazumazu)

ALIAS: Nezumiro Harmonia / Haziq
NAME INTERPRETATION:
はずまず (Hazumazu) : Nazirul Haziq
TYPE: Furloid
MODEL: 0916 - Initially voicebank are release on Malaysia Day (16 September 2011).
GENDER
Male
VOICE RANGE

C5

RELATED CHARACTERS

UNKNOWN[404E]

AGE

14

GENRE
Jpop
HOMEPAGE
Polycats N
WEIGHT

88 lbs (40 kg)

CHARACTER ITEM
Shuriken
CREATOR

Nazirul Haziq

HEIGHT / MEASUREMENTS
4'11" feet (150 cm)
VOICE SOURCE

Nazirul Haziq

PICTURE LINK LIST
Kemoshota Ref
BIRTHDAY
September 16, 2011
LIKES
Catnip
MEDIA LIST
RELEASE DATE
September 16, 2011
DISLIKES
Crowded Place, Animal abuse
SIGNATURE SONG

Konayuki(Japanese)

FURSONALITY / PERSONALITY: A Happy go lucky cat boy
Supplemental Information
Hair/Fur color: -
Headgear: -thumb|250px|link=
Eye color: Blue with Red Iris
Headphones: -
Dress/Outfit: A orange/blue uniform.
Nationality/Race: Malaysian / Sarawakian Cat
Type: Hybrid (Half Human, Half Cat)
Fav. Phase: "Slow & Steady, Wins the race"
Tagline: You cannot live with a paw in each world.
MikuMikuDance
N has a MMD model thich is only for his kemono form. Download link are available on facebook.
>_All the base model belong to their respective owner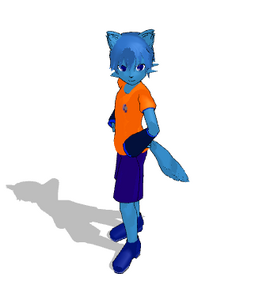 >_Please don't edit his appearance.
>_Redistributions of source code must retain the copyright.
>_All notice must be refer to the terms of use above.
>_Do not tear apart his model and parts.
Voice Info
For those who using the developed software, please don't change any of the default setting. Changing it will lead the program to stop working.
TECHNICAL INFORMATION

Voicebank Name

: Polycats Harmonious N CV (Human & BeastMan)

ARCHIVE FILENAME
Utauloid N ACT [ver.] (Voicebank type).rar
ARCHIVE FILESIZE

Human : 4.00Megabyte

BeastMan : 5.31Megabyte

DATE RELEASED

16 September 2011

NO. OF VOICE PHONEMES
132
TOTAL UNCOMPRESSED SIZE

Human : 6.41MegaByte

BeastMan : 10.3MegaByte

PHONEME ENCODING
AVERAGE FREQUENCY
150Hz
FRQ FILE PRESENCE
Present
LANGUAGES SUPPORTED

Malay

Japanese

UNOFFICIAL SUPPORTED LANGUAGES
Full English
OTO.INI PRESENCE
Present
TUNED OTO.INI
LANGUAGE PARSED VIA OTO.INI
Japanese
VOICEBANK VOICER
Haziq / Harmonia
TECHNICAL DIRECTOR
Hitoshizuku
RECORDING SOFTWARE USED
Nintendo 3DS Sound
VOICEBANK EXTENSIONS PRESENT
Absent
Download Status/Link
Active
Demo