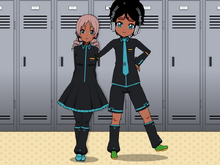 Armani is Now Compatable with Most Resamplers, He has been tested.(the CV one only) for right now. He has now been oto'd by hand, and does not require Moresampler anymore. also, Please PM Me for editing permssions, otherwise, DO NOT EDIT THIS PAGE. I Worked Hard to Make this page and i wouldn't do that to any other members without their permission. ADMIN CAN DO WHATEVER WITH THIS PAGE. I am Planning to have this page Locked soon
Armani-Chan is Now Released. Normal Voicebank(CV). i am also Finished with the demo ACV Reclist, So Head On over to Use The Reclist(Though the ACV Reclist Will be Continuously Updated at least twice a month)
download here or go to site
For ACV Reclist(Here) go to :
https://drive.google.com/open?id=1OenCAYjZaviEtmeaf0Xr77rfcoH6IZhB
for VCV Bank (Normalized with old Concept art- Go to the link down here)
https://drive.google.com/file/d/1ikoG1vCyJ4I__HkxHTO1-PY6ycDmteml/view
for UTAUV1 Natural: Go here
https://drive.google.com/open?id=10wtvXqn5Ig3IXHF2D4TGfJ-WXkK8N6yV
Armani Chan(Codenamed V1 or UTAUV1), is a Multilingual UTAUloid Released for the UTAU platform, He was Planned for release in 2016 But is now Undergoing more Progression. He is Conceptly Related to Hatsune Miku, But shares Traits with Defoko, Tei and Miku because of the different Mic's used for his Voicebanks. His Voice Provider is Damani Williams(wdamtendo). Though the Voice Provider is not japanese, he is African American. the Concept art was made by Damani A. Williams, A student at a Illinois High school who is also a English and Japanese Voice Provider for UTAU.
This character Will Frequently appear in more songs related to the UTAU Platform. He has only one voicebank, But is the author's first voicebank. a english voicebank is in progress, and will be arpasing Encoded.
Different voice options feature different mics. List applies here
Whisper/Warm/Soft/Natural/Sweet
Xtreme Bluetooth adapter/mic
Attached to a Headset in which Uses a soft voice, or a quiet voice. Sound output is similar to Defoko's Voice but does NOT in any way Uses Aquestone.
EVEC Negative
UDM-47 Electronic Microphone
This mic is A Plug-in Mic. It features a good, Powerful Voice. Can also Be used for Multi-tone Voice. No Tuning is Used at all
Negative EVEC #02
UDM-47 Electronic Microphone (Version 2)
CVVC,CV,VCV, or ACV(Wdamtendo's Format/reclist). ACV is A Method Wdamtendo Created. A reclist That is Compatable with the Negative Voicebank. it includes English Syllables Similar to CZ's List. CV, VCV, and CVVC will be later versions of the Negative Voicebank Platform. Includes 125 Samples, that is in ACV Platform. ACV Is the Opposite of the CV Reclist.

Power/Negative

UDM-47 Electronic Microphone
A Voicebank that uses the UDM-47 Microphone(My Best Working Microphone). Shouting is In this Voicebank Along with the ACV Reclist That is Used to Create this Voice Option. It Includes The a, Aba, and aya Syllables. Rest are CV Encoded
Arpasing
Xtreme Bluetooth adapter/Mic OR UDM-47 Microphone
English that uses the ''Arpasing Format. 4 versions of arpasing will Be released, Using these two microphones

Arpasing Whisper, Arpasing Negative, And Arpasing EVEC.

VCCV Arpasing(CZloid)
Xtreme Bluetooth Adapter/Mic Or UDM-47 Microphone
CZloid's Method of the Arpasing list. the Microphone, as Last stated, Doesn't Matter due to the Versions made
Armani is Very Determined to Sing, As A Show Choir Singer, He Commonly Is Always Busy. He works at A retail Gamestop in His hometown, Illinois. He is Into Fire Alarms, Likes Water, And Enjoys rain. He Loves Children and His Personality around Kids is awesome. He shows feelings for everyone, Has several Besties and Loves Doing Duets. He Mostly Sings with Ruby And Considers Her as '' His Bestie''.
Armani Is 16, For his age, He Looks Damn Cute!'' His Music Genre is Hip-Hop, R&B and Vocaloid. The Key He Works Best on is C2. Or a Little Higher.
He is Homosexual. Despite the Way He acts, It does not seem Like it. He is Explorative, and Has A Very, Caring Attitude