NANA NEKORE


(Korean: 네꺼레나나  Japanese: 猫レナナ)

NAME INTERPRETATION

She was created in South Korea under the name "Yeon Soo", however  Japan she is called "Nana"

Korean: 네꺼레나나 ・ Japanese: 猫レナナ ・ Romaji/Romaja: Nana Nekkeore (Stylized "Nana NekoRe")

TYPE: UTAUloid
MODEL: 18+ (a tattoo on the left shoulder)
GENDER
Female
VOICE RANGE

G3 - F#7

RELATED CHARACTERS
Kori Nokami (Counterpart)

Odette (Best Friend)

AGE
3 (However, she appears anywhere from 16 to 20)
GENRE
Any
HOMEPAGE
Official Site
WEIGHT
Approx. 130-125 lbs.
CHARACTER ITEM
Her pet tiger named Tora
CREATOR
MMDCat / imjustanmmdcat
HEIGHT
5'6" ft. (Original height / however, she has the ability to change the size of her entire body at will)
VOICE SOURCE

Cat Casserly (MMDCat / imjustanmmdcat)

PICTURE LINK LIST
DeviantART
BIRTHDAY
March 15th
LIKES
Cats, fur, playing video games, being pet, talking to people, music
MEDIA LIST
YouTube,
RELEASE DATE
April 30th, 2013
DISLIKES
Being touched by anyone, rude people, perverts, dogs, hot/warm things, shoes
SIGNATURE SONG
Tsukema Tsukeru

PERSONALITY: Nana is a Gynoid robot that was created as a female-lookalike sexual toy. Not wanting to be a sex-doll, she ran away to Japan to pursue her dream of being a singer. She's very sweet and kind, but if something she cares for is threatened, all emotion shuts off and she goes psychotic.
Supplemental Information
Hair color: Ash Blonde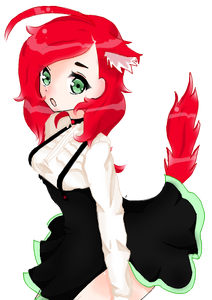 Hair Style: Pixie-Cut/Boy-Short, Messy, with two long locks on either side of her head, the bangs covering the entire right side of Nana's face.
Headgear:  Cat Ears
Eye color: Silver-Green
Eye Shape: Almond Shaped
Apparel: (see image for details) A white long-sleeved button-up shirt, with a black dress, small pale-mint-green lining underneath the edge of the dress. On her right leg is a black and white striped stocking, on her left is a knee-high lace stocking. her shoes are black mary-janes.
Breast Measurement: (US) 34DD
Foot Measurement: (US) 10/11 (Women's Size) | (US) 8/9 (Men's Size)
Nationality/Race: A cat-android produced in South Korea
Favorite Phrase: "오빠!" ("Oppa!")
Designed by: MMDCat
Official Art By: MMDCat
Voice Configuration
.
TECHNICAL INFORMATION

猫レナナ_ver究極_0.2 (latest voice library update)

NEW UPDATE COMING SOON

ARCHIVE FILENAME
猫レナナ_ver究極_0.2.zip
ARCHIVE FILESIZE
58.9 MB
DATE RELEASED
5/29/14
NO. OF VOICE PHONEMES
142
TOTAL UNCOMPRESSED SIZE
46242888 Bytes
PHONEME ENCODING
Hiragana (Romaji Alias)
AVERAGE FREQUENCY
292.9 Hz (D4)
FRQ FILE PRESENCE
YES
LANGUAGES SUPPORTED
Japanese, Korean
UNOFFICIAL SUPPORTED LANGUAGES
Latin, English
OTO.INI PRESENCE
YES
TUNED OTO.INI
YES
LANGUAGE PARSED VIA OTO.INI
N/A
VOICEBANK AUTHOR
MMDCat
TECHNICAL DIRECTOR
MMDCat
RECORDING SOFTWARE USED
OREMO

VOICEBANK DOWNLOAD

All voicebanks can be obtained from Nana's official website

NOTES

Voicebank self-installs as a .uar file, just drag into an open utau window and hit OK, or install Nana manually OR double click .uar file

Voice is soft and high-pitched
'"強い/Strong" voice is crisp, solid, strong and loud

Sample Quality is crystal clear and crisp and voice itself is very smooth
Image Gallery
---
This page is maintained/updated regularly by MMDCat, any and all information here may be subject to change without prior notice, please no vandalism