Naifu Tesutone


(Japanese: テスト音 ナイフ Tesutone Naifu)

NAME INTERPRETATION:テスト (Tesuto) - Test
音 (ne) - sound. ナイフ (naifu) - knife.

TYPE: BLIZZloid
MODEL: 23-01
GENDER
Male
VOICE RANGE
D#3~G#4
RELATED CHARACTERS


none


AGE
12
GENRE
Soft songs, loud songs tend to muffle his voice
HOMEPAGE
BLIZZloid
WEIGHT
44Kg
CHARACTER ITEM
Blue cotton candy
CREATOR
darazumayra/DairaKane
DeviantArt
Souncloud
HEIGHT / MEASUREMENTS
150cm
VOICE SOURCE
Darazumayra
PICTURE LINK LIST
BIRTHDAY
May 21st
LIKES
Cakes and candies.
MEDIA LIST
Youtube
Souncloud
RELEASE DATE

April 3rd, 2015 (the date his first cover came out)

September 11th, 2017 (official release)

DISLIKES
spicy food and rude people.
SIGNATURE SONG
Toeto
Patchwork Staccato
Heart Rate #0822 (ACT 2)
PERSONALITY:
Naifu is a cheerful boy but a bit shy because of his voice, he has a fragile body and tends to shy away from other people. His heart and lungs are replaced by artificial organs because of the chronic illness he had when he was little.

Voice Configuration
Previously a private utauloid as of 2015-2017.
He is best sounding with moresampler.
Download:
CV ACT 1: http://www.mediafire.com/file/o4lys4wt85vcrk0/Tesutone+Naifu.rar
CV ACT 2: http://www.mediafire.com/file/ft3drxgwv555yum/Tesutone+Naifu+ACT+2.rar
Character Design
Hair color: Blonde with blue highlight.
Eye color: Green.
Shirt: White shirt with turtleneck.
Jacket: Black sleeveless hoodie with bunny(?) ears.
Pants: Black with blue hem
Shoes: Black boots.
Nationality/Race: Japanese/Half Android (his heart and lungs are made of synthetic organs).
Catchphrase: "Uh-uhmm... Hello..."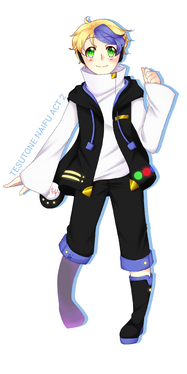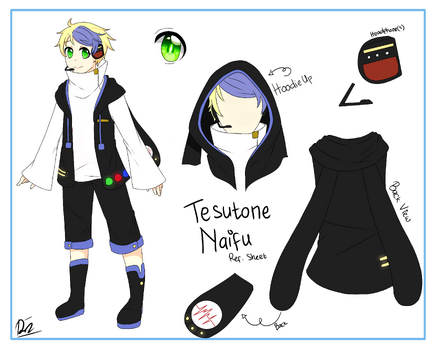 This article has been written by the creator of Tesutone Naifu.
Please do not change any info without darazumayra/DairaKane's consent.